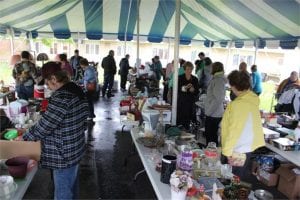 Please join us on Saturday June 10th, 2017 beginning at 8 am as we celebrate 49 years in Nursing Care and Outreach. The Miramichi Senior Citizens Home Annual Open House features a giant Yard Sale, Bake Sale, 50/50 draw, BBQ and Free cake, coffee and tea. Table rentals are available and donations are welcomed.
The Miramichi Senior Citizens Home has been in operation since 1968 and admitted its first Nursing Home Resident, Alex Taylor in May of that year. After the official opening in June of 1968 the facility had seen an expansion of services and the addition of the 15 Bed Veterans Unit in 1985. Over the years, the Home also saw the need to reach out to Seniors in the Community by offering Outreach Services including Meals on Wheels, Adult Day Program, Respite Relief Care Bed, and Lifeline.
For more information on our available services or on the Open House & Yard Sale event, please contact Jennifer at 778-6810, or email rec.msch@nb.aibn.com
*Photo by Grace Trowbridge from 2015 Miramichi Senior Citizen Home Annual Open House.