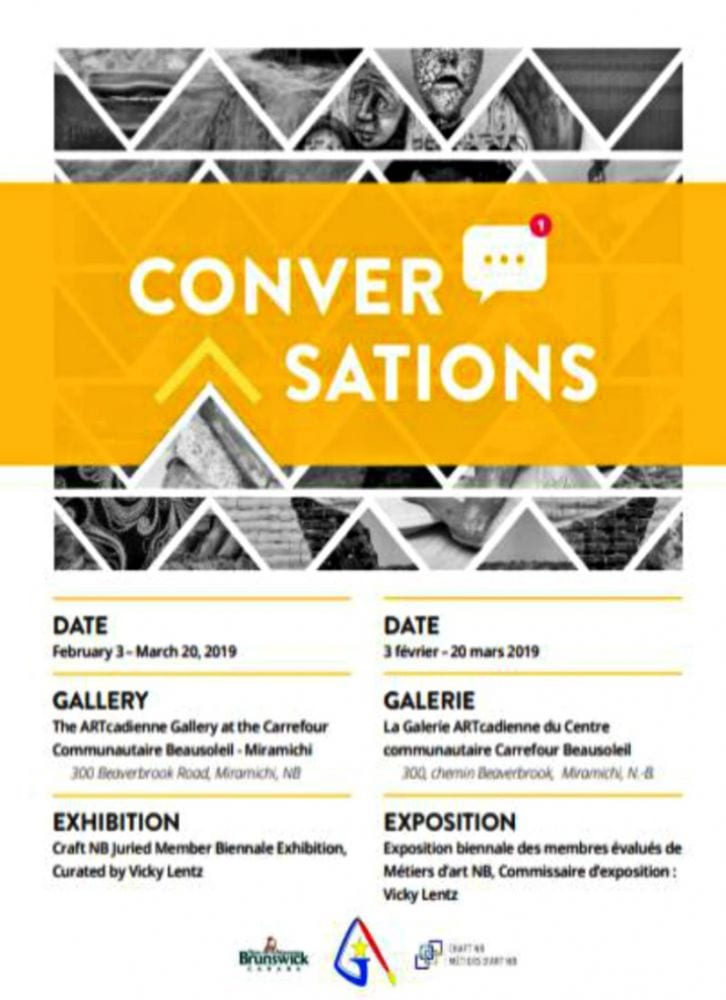 On Sunday evening, February 3rd, 2019, at 6:00 pm, join CraftNB at the ARTcadienne Gallery at the Carrefour Communautaire Beausoleil, located at 300 Beaverbrook Road, in Miramichi (Newcastle) for the opening reception of CONVER SATIONS: Craft NB's Juried Member Biennale Exhibition.
This Craft NB Juried Member Biennale Exhibition is curied by Vicky Lentz, and will also feature other following artists:
Kimberly Bent
Jacqueline Bourque
Allison Green
Alison Murphy
Deborah Payne
Keri Ryan
Katrina Isbill-Floyd
Izabell Fagan
Denise Violette Michaud
Emily McCumber
Ghita Levin
Gudi Pach
Joe Pach
Jamie Brown
Karen Knight
Karen LeBlanc
Lois McDonald-Layden
Megan Billings
Ralph Simpson
William Robinson
Maja Padrov
Ted Boothroyd
Charline Collette
This is the final stop of Conversations, Craft NB's Juried Member Biennale Exhibition.
Be sure to "view" and "like" Craft NB on Facebook, as well as
Carrefour Communautaire Beausoleil and visit their websites at: https://www.craftnb.ca/ , http://carrefourbeausoleil.ca/ and https://www.tourismnewbrunswick.ca/Products/G/Carrefour-Beausoleil-Miramichi-Galerie-ARTcadienne.aspx
The closing of this exhibition is Wednesday, March 20th, 2019.
Find this event on Facebook