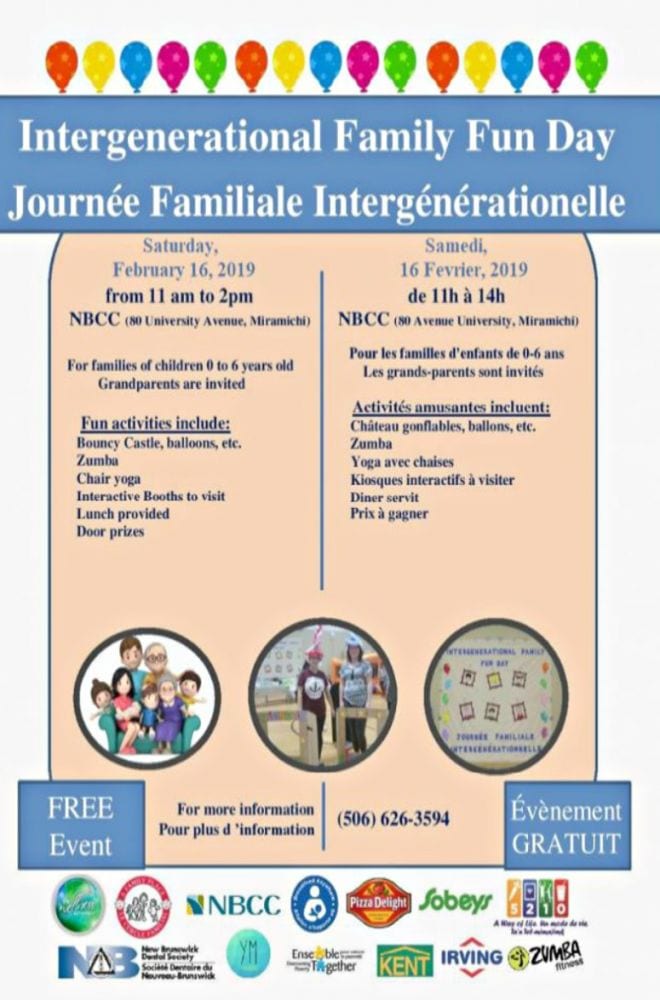 The Intergenerational Family Fun Day will be taking place on Saturday, February 16th, 2019 at the New Brunswick Community College – Miramichi Campus from 11:00 am to 2:00 pm.
This event is open to families of Children 0 to 6 years of age, and Grandparents are invited to attend as well.
Fun Activities On That Day Will Include:
Bouncy Castle
Balloons
Zumba
Chair Yoga
Interactive Booths to Visit
Lunch Provided
Door Prizes
This event is FREE admission, and for further information, contact Chanelle Melanson at 1-506-626-3594.
Event Sponsors:
Wellness NB
A Family Place
New Brunswick Community College
Breastfeed Anywhere
Pizza Delight
Sobeys
5-2-1-0: A Way of Life
New Brunswick Dental Society
YM
Ensemble: Overcoming Poverty
Kent
Irving
Zumba Fitness
Find this event on Facebook