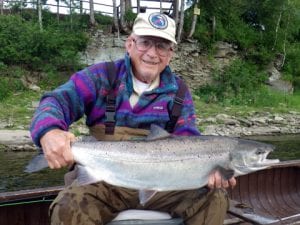 This week was a more positive one than many so far this season. Early in the week, there were better numbers of fish being reported through out the system. The Trapnet at Cassilis on the Northwest recorded 19 salmon and 21 grilse on Tuesday and 19 grilse and 13 salmon on Wednesday. The Millerton Trapnet saw 29 salmon and 30 grilse Tuesday and 40 salmon and 40 grilse on Wednesday. So this is as close to a "run" as we have had so far, and hope id that these numbers continue. The long hot spell had brought the water levels down to fishable along most of the rivers, but another good rain will soon be in order.
Dave Ingersoll and I had the pleasure of fishing with Sebastion Hope, a columnist with the London Financial Times and Serge Collin of Tourism NB this past Saturday. They were staying at Country Haven Lodge just below Blackville. We were fortunate to be in the very capable and knowledgeable hands of guide Gary Colford who was the icing on the cake of a good day. Sebastion caught a grilse and rolled a couple more. Dave lost a grilse and landed a nice 14-pound salmon and I lost a grilse. We also saw several more fish and thoroughly enjoyed the day and hospitality of Byron (Byzie) Coughlan and his staff.
The group also visited several local fly shops and enjoyed the chats with them and their customers. We also met a group of eight adventurous ladies who were staying and fishing at Ledges Inn in Doaktown. I recognized Hazel LeBlanc, wife of Paul LeBlanc who operates the two-story Orvis Shop in Montreal. Many will remember her and Paul from their annual visits to the Dieppe/Moncton Spring Fishing Forums. Mj from New Jersey was still on a high after landing an 18-pound salmon. (Her photo and fish are part of this week's column). Mrs. Peter Clark was the group's organizer, and all were enjoying their time on the river.
Read More