Rovin' Joe Smith, the Poet Outlaw of Dungarvon River
On Thursday, November 22nd 2012, the Heritage Players will present their newest production "An Evening at Paul Kingston's with Rovin' Joe Smith the Poet Outlaw of Dungarvon River on the 100th Anniversary of His Death by Drowning at Holmes' Lake" !
This performance will take place at the spacious Renous Recreation Centre and will feature a roast turkey dinner with strawberry shortcake. The meal will be served by the Blackville High School's graduation class.
Joe Smith is a relatively unknown character among the Miramichi folk poets. His best known work is the poem, "A Winter on Renous". It can be found in Louise Manny & J.R. Wilson's "Songs of Miramichi".
A man of great strength, a wonderful father, husband and a loyal friend, Smith was quick-witted and poetic in a time when such qualities were greatly admired. His worst flaw was that he was a thief, and even though he gave away almost everything he ever stole, a lot of people never forgave him for that.
A half-brother to another upriver poet, Frank O'Hara, Smith's poems were about local people and events and were usually satirical and often written to make fun of someone in particular. Only a handful of his poems have survived.
After his death, Smith's body was recovered and was brought out of the woods to be buried at St. Bridget's Church in Renous. However, Smith was buried outside the fence of the old cemetery there . The reason given for this, at the time, was that he had failed to make his Easter duty – going to confession and communion at least once during the year.
If there ever was a cross or maker for his grave, it has long since disappeared. Junior Hubbard, of the Heritage players, has carved a stone grave marker for him and, with the kind permission of Monsignor Joseph Woods, it will be erected for the Rovin' Joe Smith just inside the fence at Renous, on the same day as the performance – Thursday, November 22, at 4 pm – for anyone who would like to attend. There will be a dedication ceremony at the play later in the evening.
The Heritage Players are very pleased to announce a joint venture with the Miramichi Art Core. A number of their members are very interested in creating paintings or drawings depicting some of the events in Smith's life and will be in attendance the night of the play to display their art. We hope this to be just the beginning of a collaboration of many different talented artists from the Miramichi area.
We are also looking for people to help with interpretative dance, singing, direction and other stage performance arts. If interested, please call Bernie Colepaugh at (506)622-0398 or any member of the Heritage Players.
Tickets are $25 and will be available at Renous Convenience (622-6561), Blackville Post Office (843- 2245) and from Susan Butler at the Newcastle Farmer's Market (622-1780).
We are expecting this to be another sold-out performance, so you are encouraged to buy your tickets early.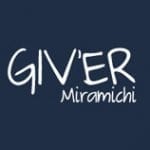 Giv'er Miramichi is about "What's up, what's new, what's happening". We are focused on building people up, supporting one another and celebrating our successes.