Jason Dickson Named Honorary Captain for Team New Brunswick
Jason Dickson, an Olympian and former major league baseball pitcher, has been named Team New Brunswick's honorary captain for the 2013 Canada Summer Games.
"We are pleased to have Jason Dickson selected as Team New Brunswick's honorary captain for the 2013 Canada Summer Games," said Healthy and Inclusive Communities Minister, Dorothy Shephard. "Dickson's achievements on and off the field are well-known by New Brunswickers. His participation as honorary captain will help encourage our New Brunswick athletes to perform to their capabilities at the Games."
Stéphane Hachey, Team New Brunswick chef-de-mission, introduced Dickson at a Team New Brunswick leadership meeting for mission staff, coaches and managers.
"I am pleased to be named the honorary captain for Team New Brunswick at the 2013 Canada Summer Games," Dickson said. "I remember my Canada Games experience as being a stepping stone to national and international competition, and it was great preparation for my career in major league baseball and the Olympics."
Raised in Miramichi, Dickson played four major league baseball seasons between 1996 and 2000, pitching for the California/Anaheim Angels, appearing in one major league baseball all-star game. Dickson took part in the 2004 Summer Olympics, playing for Team Canada. In 1993, Dickson played for Team New Brunswick at the 1993 Canada Summer Games in Kamloops, BC.
As a former Canada Games athlete, Olympian and major league baseball player, Dickson will serve as a role model for Team New Brunswick members at the Canada Summer Games.
The 2013 Canada Summer Games, to be held August 2-17 in Sherbrooke, QC, will bring together 4,200 athletes to compete in 20 disciplines on 20 different sites. Team New Brunswick will consist of 415 athletes, coaches, managers and mission staff.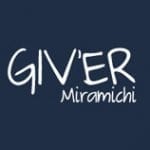 Giv'er Miramichi is about "What's up, what's new, what's happening". We are focused on building people up, supporting one another and celebrating our successes.