The Gift, a Poem by Elizabeth Copeland
THE GIFT
The gift came
not as I thought it would – wrapped in pink cellophane, yellow ribbons streaming,
a chorus of glory hallelujahs ringing out.
The gift came
not as I hoped it would – clarity streaming in like cold spring water,
bottled and guaranteed to provide easy enlightenment.
The gift came instead
wrapped in veils of past shame, of long suffering,
tied tight with ribbons of selfloathing.
The greeting card taped to the front is empty;
a blank canvas calling for me to begin anew.
I tear at the wrapping, throw it to the floor
and what has lain so long unopened / dares to reveal my
innocent potential,
lost so long ago.
The lines on my face tell the story of one who has tried and failed.
But the gift tells true.
The gift tells true.
– Elizabeth Copeland, Miramichi NB
Since moving to the Miramichi in May of 2011, Elizabeth Copeland has been busy as the Artistic Director of KPH Productions, designing and teaching performing arts programs for children and adults in the community. She brings to this work over 30 years as a professional performing artist – with credits that include work at the Charlottetown Festival, playing the Witch in Hansel and Gretel with the Honolulu Symphony, and touring with Second City, doing improv comedy.
She writes poetry, plays, short stories, and passionate letters to the editor. Her work has been published in Forge Journal, Bread 'n Molasses, So to Speak, Vitality Magazine and Aqulle Relle, to name a few. Her play – "The Spirit of the Irish" – was featured in the 2012 Irish Festival, and her monologue – "My Choice" – was recently professionally produced as part of the Wild Women Festival in Winnipeg, Manitoba. To find out more about Elizabeth and her work, visit: www.kidplayhouseproductions.com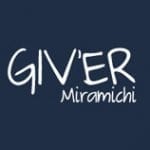 Giv'er Miramichi is about "What's up, what's new, what's happening". We are focused on building people up, supporting one another and celebrating our successes.