Meet the Pirates of Halifax!
Canada's only troupe of authentic pirates are coming to the Miramichi this weekend for the New Brunswick Festival of Tall Ships! The Pirates of Halifax are method actors with screen accurate wardrobes and props. Their home ship is the Liana's Ransom, which will also be taking part in the festival.
On Saturday, June 1st, The Pirates of Halifax will be doing two fundraising events for the Miramichi Youth House.
From 11 am – 4 pm at Waterford Green in the Chatham downtown, you can have your photo taken with The Pirates of Halifax.
Saturday evening enjoy Dinner with the Pirates at O'Donaghue's Irish Pub. The first seating is 4:30 – 7:45 pm and the second seating happens from 8 – 11 pm. Dinner guests have their choice of beef, salmon or grilled chicken breast and a glass of O'Donaghue's finest ale or wine. Included with the dinner is a photo with Pirates, Pirate Tales of Miramichi, Random Floggings, Prisoner Questionings and much more. It's sure to be an exciting evening!
Tickets for the Dinner Theatre with the Pirates are $100 (tax receipt issued) and can be purchased by contacting the Miramichi Youth House at (506)624-9909 or texting Dee Drake at (506) 625-3534
The event is sponsored by Canuck Seafood/ Cheasapeake Bay.
All proceeds from these two Pirates of Halifax events will go toward the Miramichi Youth House.
Miramichi Youth House Inc. is a community based, not-for-profit organization, which believes action is needed to create a safe and secure environment for all youth, by providing opportunities for youth-at-risk to develop and grow positively within their family, their school, and their community.
For more information visit www.miramichiyouthhouse.org.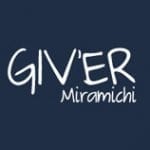 Giv'er Miramichi is about "What's up, what's new, what's happening". We are focused on building people up, supporting one another and celebrating our successes.