Giant Tiger Opening in Miramichi
Giant Tiger is excited to announce the opening of its newest location in Miramichi, New Brunswick.
The store will be located in Northumberland Square at 2441 King George Highway and will offer approximately 17,300 square feet of selling space.
"We are thrilled to be expanding into Miramichi," says Greg Farrell, President and COO of Giant Tiger Stores Limited. "Giant Tiger has received many requests to expand into this market and we are excited to finally be able to call Miramichi home."
Giant Tiger Miramichi is scheduled to open on May 10, 2014.
About Giant Tiger:
In 1961, Giant Tiger Stores Limited opened their first store in Ottawa, the Nation's Capital. The business was started with a very simple idea – keep the cost of operation low and sell a large volume of merchandise at everyday low prices. It is the adherence to this idea that has allowed Giant Tiger to grow to over 200 stores. In 1968, another simple idea was incorporated into the Giant Tiger formula – franchising! Today, most of our stores are franchised so that our valued customers will be better served because the owner is in the store. Giant Tiger franchise owners become members of the community, sharing community concerns and serving community needs. Giant Tiger also helps to bring communities together. In 2012, Giant Tiger donated more than $2 million to more than 700 local associations and charities across Canada.
Giant Tiger offers a large assortment of casual clothing and footwear for the entire family including many of the latest fashion items at the lowest possible price. The identical fashion items and quality offered by major chain stores are sold at Giant Tiger often at remarkably lower prices. In addition, Giant Tiger provides for families' everyday needs in groceries, confectionery, pet food, cleaning supplies, housewares, stationery, toys and health and beauty products.
Giant Tiger checks out as Canada's low price Giant with our low prices every day, Ad Match Guarantee, Clawbacks throughout the store and our no time limit return policy. For more information about the company, please visit www.gianttiger.com, join us on Facebook at www.facebook.com/gianttiger or follow us on Twitter @GTboutique and on Four Square Giant Tiger Stores.
Giant Tiger, a proud Canadian company since… FOREVER! #CanadaPROUD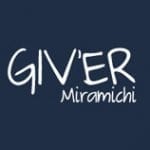 Giv'er Miramichi is about "What's up, what's new, what's happening". We are focused on building people up, supporting one another and celebrating our successes.