Miramichi Lumber Looks to Future
For generations lumber has been integral to the lifestyle and economics of the Miramichi region. Throughout history Miramichi forests have provided logs to drive a lumber industry that supplied shipbuilding and other wood fibre industries. The province of New Brunswick gained worldwide recognition for its huge wooden ship fleet, mostly because of Miramichi lumber. In the industry's hey day, hundreds of mills were located along the Miramichi River.
Today, only one commercial sawmill remains. Miramichi Lumber has been operated under different names and managed by four generations of the Anderson family. The current General Manager is Danny Anderson.
The Andersons began sawing lumber at Burnt Church in 1880. Danny's grandfather, Walter took over the family operation and moved the mill to the waterfront in the Town of Newcastle in 1922. Danny's father Ian rebuilt the mill operation, then known as Newcastle Lumber, at the current Jane Street location, in 1968. Danny continued the family's saw milling tradition, taking over the management of the Newcastle Lumber mill in 1987.
Newcastle Lumber relied on conventional rotary saws and carriage technology to produce rough lumber for many years. As demand for rough lumber waned, they contracted out drying and dressing service, right up until 2002 when they purchased the Ashley Colter mill at Boiestown in order to utilize the electric de-humidification kilns and a planer mill. In 2011, they also purchased the former UPM sawmill site in Blackville to utilize the kilns and planing equipment.
The business models which had worked for four generations of Andersons failed during the industry wide economic downturn that wiped out several saw mills across NB. Newcastle Lumber declared bankruptcy in 2009.
While many independent mill across the province closed down, a spirit of survival emerged from the greater Miramichi community. Business and political leaders recognized the economic value of the mill operation and rallied to support the rebirth of the Newcastle Lumber operation.
Some 25 private investors came together to pull the former Newcastle Lumber assets out of bankruptcy, and add technological upgrades to make the operation more productive and competitive. Fresh investment built an entirely new small log saw line in the mill. The restructured business was christened as Miramichi Lumber with Danny Anderson as General Manager and Hal Raper as Chief Financial Officer. The government of New Brunswick also provided significant financial support for the restructured operation and added a promise for an increased allocation of saw logs from Crown forest resources.
In late April Miramichi Lumber fired up their newly renovated random length sawmill with a heap of optimism but by mid-July, the sense of optimism degraded and Miramichi lumber announced that the mill could not sustain operations with an unsuitable and inconsistent saw log supply, and would have to cease operation, throwing more than 100 employees out of work.
After years of exploitation, the Miramichi watershed continues to produce high quality logs and fibre, but rather than supplying and industry in the region, more and more of the wood is transported to mills outside the region.
"Our mill is situated in the middle of big wood basket, and we support businesses and employ people in this region. Our mill needs a secure supply of quality logs to remain economically viable," says CFO Hal Raper.
There has been much debate with many calling for reform to the New Brunswick Crown License system. The survival spirit continues at Miramichi Lumber. They've launched a new website at www.MiramichiLumber.com where you can sign an online petition to help.
The upgrades are done, the mill is ready to employ local people full time. Now, they just need the logs.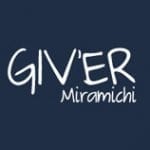 Giv'er Miramichi is about "What's up, what's new, what's happening". We are focused on building people up, supporting one another and celebrating our successes.