New Tai Chi Book Reviewed
by Dave Bucklow
A team of doctors at the Harvard Medical School have been conducting a study of Tai Chi's health effects with numerous medical conditions over the last 10 years, and the results of these studies have prompted the doctors to write a book covering the health benefits of this ancient art from China. The Harvard Medical School Guide to Tai Chi is now available for order at book stores. This is a very informative guide, explaining and demonstrating the many benefits that Tai Chi has to offer, so many benefits that the expression has now changed from "Moving Meditation" to "Moving Medicine".
This book has been written with the beginner in mind in very clear, plain English. It covers the Art's movements and medical benefits in the most understandable way I have seen in any book so far, and I have many.
Principle author Peter M. Wayne, PHD, is Assistant Professor of Medicine at Harvard Medical School and the Director of Research for the Osher Center for Integrative Medicine, jointly based at Harvard Medical School and Brigham and Women's Hospital. He has more than 35 years of training experience in Tai Chi and Qigong and is an internationally recognized teacher of these practices. Dr. Wayne developed and tested protocols similar to the simplified program he includes in the book, which is suited to people of all ages, and can be done in just a few minutes a day.
The book includes:
The basic program, illustrated by more than 50 photographs
Practical tips for integrating Tai Chi into everyday activities
An introduction to the traditional principles of Tai Chi
Up-to-date summaries of the research literature on the health benefits of Tai Chi
How Tai Chi can enhance work productivity, creativity, and sports performance
And much more.
Conventional medical science on the Chinese Art of Tai Chi now shows what Tai Chi masters have known for centuries—regular practice leads to more vigour and flexibility, better balance and mobility, and a sense of well-being. Cutting edge research from Harvard Medical School also supports long-standing claims that Tai Chi also has a beneficial impact on the health of the heart, bones, nerves and muscles, immune system, and the mind. This research provides fascinating insight into the underlying physiological mechanisms that explain how Tai Chi actually works.
The easy to understand way this book is written must be attributed to Mark L. Fuerst, an award winning health and medical writer and co-author of 10 books so far, who helped put this book together.
The book is based on a 12 week program of eight basic exercises that allude to eight basic principles of Tai Chi, and five basic moves practised in a repetitive manner. Each of the exercises and movements have very detailed, but easy to understand, explanations.
This program that Dr. Wayne has put together worked very well in his clinical setting, but when he applied it to his classes he was amazed at the benefits there too. So much so that he has students still enjoying this "Basic" routine after 10 years of practising their whole Tai Chi forms. And the Big thing for all instructors is that he found he retained more students by starting them on this basic program.
There is also lots of medical information relating to all the different aspects of Tai Chi & Qi Gong, which is also very easy to understand.
I hope this little synopsis helps. The book is a great reference tool for instructors and offers great insight to Tai Chi for the beginner. There will be lots of "Snow Days" when I can sit back and continue reading more of this little gem. Find it on Amazon, it's inexpensive healthy reading for the winter.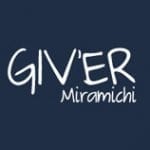 Giv'er Miramichi is about "What's up, what's new, what's happening". We are focused on building people up, supporting one another and celebrating our successes.