Laughter Yoga Coming to Miramichi
The revolutionary exercise routine and complete well-being workout called Laughter Yoga is sweeping the world, spreading rapidly across 72 countries—and this fall classes are coming to Miramichi.
"As of August 10, 2014, I became a Certified Laughter Yoga Leader and I am looking forward to running classes," says Patsy Martin.
The concept of Laughter Yoga is based on a scientific fact that the body cannot differentiate between fake and real laughter, so both generate the same physiological and psychological benefits. Clinical research shows that laughter lowers the level of stress hormones in the blood. Laughter Yoga has been shown to reduce blood pressure by 6% and reduce stress levels by 28%.
"Laughter Yoga is laughing for no reason," Patsy says. "It's a unique exercise routine which combines unconditional laughter with yogic breathing. Sessions start with gentle warm-up techniques including stretching, clapping, and body movement. These help break down inhibitions and develop feelings of childlike playfulness. Breathing exercises are used to prepare the lungs for laughter followed by a series of laughter exercises that combine the method of acting and visualization techniques with playfulness. Each laughter session is theme-based so each session includes a number of different laughter exercises around the theme."
Patsy leads Laughter Yoga classes on Tuesdays at 10 am and Fridays at 7:30 pm at the Wesleyan Church in Nelson.
For more information about local classes join the Miramichi Laughter Yoga Classes group on Facebook or visit the website at www.laughteryoga.org.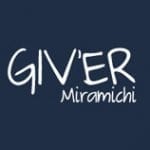 Giv'er Miramichi is about "What's up, what's new, what's happening". We are focused on building people up, supporting one another and celebrating our successes.