Miramichi Fishing Report for Thursday, September 11, 2014
This week's report is very similar to many this season.  Anglers are still waiting and hoping for a Fall run.  Thus far there have been only several fresh fish on average coming in each day, and the majority of those hooked are dark fish which have been in the system for quite a while.
[wp_bannerize group="doug1″]
Doug White's Tammerack Sports Fly Shop in Juniper said because of the continuous lack of water he didn't believe anybody was fishing. He added: "Not much of a report but it's all I have."
W. W. Doak and Sons in Doaktown said water conditions continue to improve with temperatures in the high 50s and low 60s Fahrenheit.  They were hoping the full moon tides would bring in some fresh fish.  One camp above Doaktown had hooked four or five fish on two rods in two days.  Other camps were reporting a fish here and there.  None were fresh fish.  Most of the anglers out were sports, with few locals throwing a line.
Flies of choice were Ally's Shrimps, Same-Thing-Murrays, Undertakers, Tippet Shrimps, General Practitioners and White-tailed Green Machines on nos. 6 & 8 hooks.
Derek Munn of Ledges Inn in Doaktown and Mountain Channel in the Rapids area said the fishing was still slow.  They did get a little raise of water on Sunday and picked up a few fish on Sunday and Monday night. They had one guest from Great Britain land 3 grilse in one pool and his friend lost a nice salmon at the net Monday night. Mountain Channel is seeing a few fish and they landed a couple fresh with sea lice but not great numbers yet. Looks like cool weather and a few showers for Thursday and the weekend so the water temperature should stay at a good level.  It was 56 degrees at Flo's Wednesday morning.
Flies of choice were bombers, small White-tailed Green Machines and black bugs.
Herb Barry Sr. of Herb's Fly Shop on the Station Road in Blackville said angling was slow with only the odd fish being caught here and there, and these were old fish.  He had not heard of a bright fish being seen in over a week.  The water was cold, but getting low, and a good rain would help.  Generally, there were not a lot of anglers out, including sports.
Flies of choice were Sally's Shrimps, General Practitioners, Orange Blossoms, Orange Blossom Specials, Chief Needabahs White-tailed Green Machines and L.T. Specials
Curtis Miramichi River Outfitting in Blackville said anglers were catching a few between Maude's in the Rapids to the Mouth of the Cains, but certainly not a lot.  There was only an odd bright fish reported.  One lady caught a 20-pound salmon.  Canoeing was good.  Water conditions were good.
Flies of choice were Blue Smurfs, L.T. Specials, Same-Thing-Murrays, River Shrimps and Ally's Shrimps.
George Routledge of George's Fly Shop at the Mouth of Renous in Quarryville said very few were fishing.  There had been no one out Tuesday, and on the weekend there were only a couple of anglers with a grilse lost Friday and a salmon lost Saturday.  No other fish were seen.  The water was getting low, but the temperature was decent.
Flies of choice were Ally's Shrimps, General Practitioners, L.T. Specials, Black Ghosts, White-tailed Green Machines and White-tailed Shady Ladies on nos. 6 & 8 hooks.
Jim Laws of Miramichi Hunting and Fishing in Newcastle, Miramichi reported angling as very slow with only an odd fish being hooked.  Water temperatures were good and the height was low, but decent. A rain would help. He reminds anglers that there will be a third Striped Bass retention period from September 24 to September 30, 2014 with a limit of one per day with the retention length between 50-65 cm.  However, according to most bass anglers, the retention period would be better suited to mid October.
Syd Matchett of Trout Brook Fly Shop on the Northwest Miramichi said angling was quiet, but two Quebec anglers canoed the loop several days last week and hooked 13 fish, landing 10.  There were no other reports of fish being hooked.  There was only an odd other fish being seen.
Flies of choice were Undertakers and Shady Ladies.
Debbie Norton of Upper Oxbow Outdoor Adventures on the Little Southwest Miramichi said they had caught a grilse on the weekend and saw another.  The water was perfect in terms of height and temperature.  She was hoping the full moon tides would bring in some fresh fish.
Flies of choice were Marabous, General Practitioners and White-tailed Green Machines.
So, as the leaves begin to turn and the days are shorter and cooler, enjoy a day out and "on the water".
Don't forget to show your support for our sponsors, because without them, this column would not be possible.
Check out Deals 4 U in Miramichi for your grocery needs, and good Cuban cigars to celebrate getting back to the rivers. Drop by Mac's Seafood for Miramichi Smoke House Award Winning Smoke Salmon.
ANY FINANCIAL CONTRIBUTIONS TOWARD HELPING WITH THIS COLUMN ARE GREATLY APPRECIATED. Click here to donate now. A SPECIAL THANKS to all who made contributions last season.
If you would like to sponsor this column, give us a call at (506) 352-7668 or email .
[wp_bannerize group="doug2″]
Thought for the Week: "Fishing is not an escape from life, but often a deeper immersion into it…"  Harry Middleton
"Some pre-election information to consider for anglers and all those interested in protecting our beautiful rivers and wild Atlantic salmon in New Brunswick… The NB Salmon Council posed a series of questions to each of the provincial political parties on issues affecting the conservation of wild Atlantic salmon. The questions range from the new forest strategy and salmon protection barrier pools to finfish aquaculture, shale gas and the future of the Mactaquac dam. Here are their responses, complete, verbatim and unedited."
Here is the information about questions the NB Salmon Council posed to the 5 political parties, as well as their respective responses.
Link to directly to the document:  http://www.nbsalmoncouncil.com/Election_Questions_2014.pdf
Link to the NBSC website: http://www.nbsalmoncouncil.com
Salmon Counts (click to enlarge)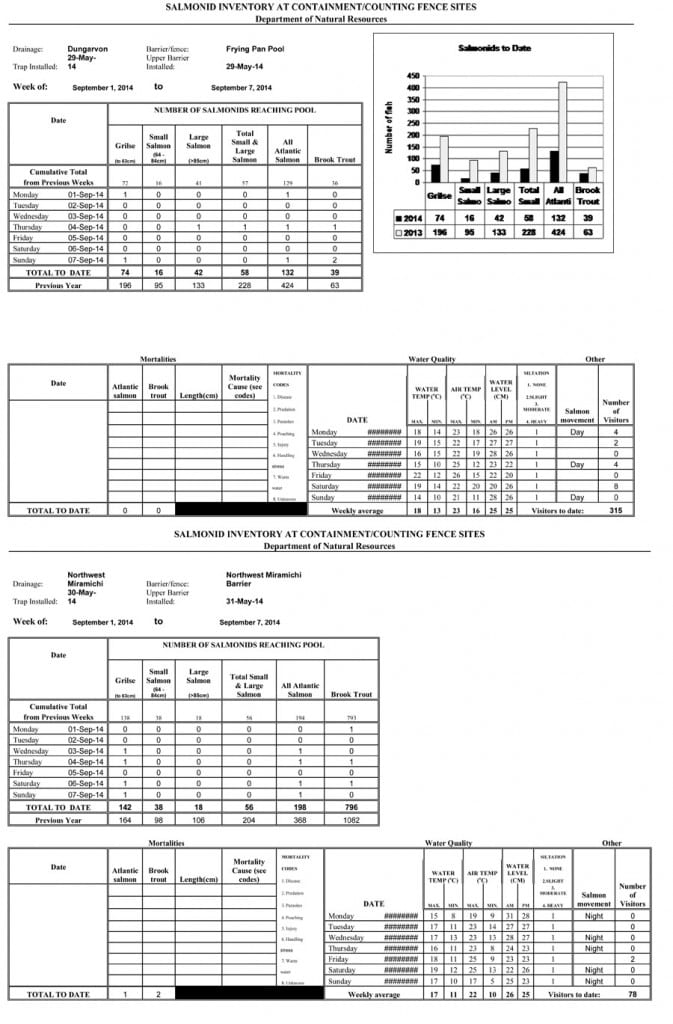 Until next week
TIGHT LINES
DOUG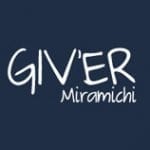 Giv'er Miramichi is about "What's up, what's new, what's happening". We are focused on building people up, supporting one another and celebrating our successes.