"Still Fishing: Beyond the Escuminac Disaster" Wins at Film Festival
The Silver Wave Film Festival ran from November 6 – 9 in Fredericton this past weekend. This year's event offered a showcase of multicultural, new youth screenings, French and English programming of all genres and lengths and a comprehensive industry series which brings experienced and emerging producers and filmmakers together.
In its 14th year it was evident how much growth the festival has experienced. With packed screenings, a large turnout at the industry summit and a full theatre at the awards ceremony, the Silver Wave Film Festival had a very successful weekend and will only continue to grow.
Still Fishing: Beyond the Escuminac Disaster took home a major award on Saturday night. The documentary was honoured with being named Best Low-Budget New Brunswick Documentary. Present to accept their award was director Andrew King, and producers Cindy Trevors and Terry Power.
"This award is so important to the industry because it promotes the idea of just getting out and shooting something. In our case, the fishermen were so great, and invited us into their homes to tell the story which made the production process easy. The award really belongs to them," Andrew King said.
Cindy Trevors said, "Miramichi River Tourism Association is thrilled with winning a Silver Wave Festival Award. We would like to share it with the fisherman whom without their cooperation and their story there would be no documentary."
"The Escuminac Disaster has to have changed the community," Terry Power added. "The fishermen and their families are proud of what they do, and this pride is evident when you visit the wharf and hear their stories. We just need to make sure this story is never forgotten."
The 28 minute documentary examines the life of the fishermen working at the Escuminac Wharf. The story of the Escuminac disaster is told from the perspective of three surviving fishermen; Theodore Williston, Alphonse Doucet, and Max Martin, along with family members who were affected by the disaster. Author David Adams Richards is also featured in the documentary offering a very well versed analysis about what this storm means to New Brunswickers.
There will be another screening of the documentary in Miramichi in the coming months. The announcement for a screening date will be posted on DiscoverMiramichi.com.
For a complete list of all the winners at the Silver Wave Film Festival, click here.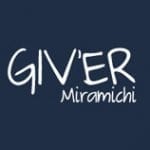 Giv'er Miramichi is about "What's up, what's new, what's happening". We are focused on building people up, supporting one another and celebrating our successes.