Scottish Festival Marks 250th Anniversary of William Davidson's Arrival
Photos & Story contributed by Highland Society of New Brunswick at Miramichi
The 250th Anniversary of the arrival of William Davidson on the Miramichi from Scotland is being marked during the 2015-16 season. He settled at Wilson's Point and established the first English-speaking settlement in the area. Throughout the year a number of events have been planned. John McKay is in charge of the 250th Anniversary celebrations.
In April, the Highland Society of New Brunswick at Miramichi presented a play on the life of William Davidson while he lived on the Miramichi. It portrays the hardships and opposition he met in his attempts to settle in this area. A video was made of the play and the production will be shown at future events. A shorter version will be shown at Wilson's Point during the summer.
In August, the Fochabers Fiddlers — a youth group of fiddlers from William Davidson's home area in Scotland — will be entertaining at all events during the weekend of the Miramichi Scottish Festival. The Fochabers Fiddlers are under the direction of James Alexander. Their 10 day trip to the Miramichi has been sponsored by the Highland Society of New Brunswick at Miramichi. Their visit is inspired by connections that were made when members of the Highland Society visited Davidson's birthplace in Scotland.
Reaching Out to Our Scottish Cousins
William Davidson, beginning in 1765, established the first Scottish settlements on the Miramichi. Today, the many descendants of these early Scottish pioneers form an important element in our vigorous Miramichi community.
In September 2012, the Miramichi was visited by two prominent Scots as guests of the Highland Society of New Brunswick at Miramichi, Robert Lovie of the National Trust for Scotland and Neil Godsman, a Scottish cousin of William Davidson. They were keenly interested in learning more about the significant contribution Davidson made to early New Brunswick and especially in Miramichi.
Davidson, whose name was originally Godsman, came from the mouth of Spey River near Fochabers in Banffshire. Today, Fochabers, Spey Valley and Davidson country is a prosperous region boasting castles, salmon angling, golf courses, distilleries and highland lore.
Robert Lovie and Neil Godsman were very encouraged by the strong recognition given to Davidson's role in early Miramichi and suggested stronger links be made between Miramichi and Davidson's homeland. They invited the Highland Society members to visit Davidson country in Scotland and the members agreed to accept the offer.
In May 2013, past-President John McKay and his wife Sandra made a personal visit to Scotland. A civic reception was hosted by Fochabers Heritage, discussions were held with business and cultural leaders and a meeting and reception was held at Ballindulloch Castle with the Queen's representative for Banffshire. Cultural groups including the 50 member Fochabers Fiddlers expressed interest in visiting and performing at a future Miramichi Scottish Festival. Other lasting connections were made during the visit and it was made clear there is much we have in common with our Scottish cousins; not only the Davidson connection, but also the salmon culture, shipbuilding heritage, and firm highland roots.
Click to enlarge any of the photos below.
Miramichi Scottish Festival
August 21-23, 2015
Caid Mile Failte! – Come Celebrate With Us!
Friday, August 21, 2015
Riverside Entertainment Centre (REC): Tartan Banquet Doors open 6 pm • Meet & Greet 6:30 –7:00 pm Special entertainment by the Fochabers Fiddlers, direct from Scotland.
Winston Curtis – Piping the Haggis
Ian Craig address to The Haggis
The Haggis prepared by Ben & Sharon Robertson
Scottish Entertainment by Mason's Tender, Fredericton & Fochabers Fiddlers, Scotland
Saturday, August 22, 2015
Waterford Green, Chatham
12:30 – 2:30 pm: Children's Games, jumping castle, face painting, cotton candy, hot dogs
3- 6 pm: Ceilidh on the Green featuring:
Moncton Pipes and Drums
Mason's Tender
Ian Craig
Fochabers Fiddlers
Local Highland Dancers
Miramichi Fiddlers
Sunday, August 23, 2015
MacDonald Farm – 2 – 4 pm, Free admission
Moncton Pipes and Drums
Fochabers Fiddlers
Barbeque to help wrap up the weekend with haggis sausages, burgers, hot dogs, and drinks.
Tickets for the Friday evening dinner are $40 and are available at the following locations Scott's Pharmasave in Chatham, Dickinson's Pharmasave in Newcastle, and Brookdale Flower Shop in Newcastle.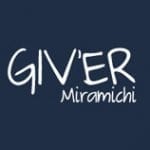 Giv'er Miramichi is about "What's up, what's new, what's happening". We are focused on building people up, supporting one another and celebrating our successes.