Miramichi Fishing Report for Thursday, October 15, 2015
Today is closing day for the majority of the Miramichi River system.  The only exceptions are the Bartibog, Tabusintac and Burnt Church Rivers which close October 29.  So there is still some time left for the ardent angler to do some fishing, and perhaps some "cast n' blast".
Many anglers will also be fishing for Striped Bass which are now back in the Miramichi area.  In 2015 the striped bass recreational fishery will close on October 31.  The final retention period will take place from October 24 to 31.  During the retention period, anglers will be able to retain a maximum of one striped bass per day and will be prohibited from possessing more than one striped bass at any given time. Outside of this retention period, all striped bass caught must be released immediately in a manner that causes the least harm to the fish.   The size window for the retention fishery is established at a minimal length of 50 cm and at a maximum length of 65 cm. The length is measured in a straight line from the tip of the nose to the tip of the tail (total length).  Angling activities will begin two hours before sunrise and end two hours after sunset of each day.  The use of a non-offset barbless circle hook is mandatory when bait is used while fishing for striped bass in tidal waters.
[wp_bannerize group="doug1″]
W.W. Doak and Sons in Doaktown said anglers were for the most part catching fish.  Above Boiestown was particularly good and there were more big fish being hooked.  In the Doaktown area, anglers were also catching averaging a fish a day.  The mid section of the Cains River was fishing better than the lower section.  Water height and temperatures were good.  With the temperature around 40 degrees Fahrenheit, anglers were more apt to hit or catch a fish than see one, but the numbers around were good.  They just weren't showing well.  Over all, they felt that the season was a good one.
Flies of choice were Same-Thing-Murrays, Ally's Shrimps, LT Specials, and General Practitioners.
Derek Munn of Ledges Inn in Doaktown and Mountain Channel in the Rapids area said they were catching fish every day.  One sport had limited out.  Last week they were catching mostly grilse, but this week there were more big fish.  Water conditions were perfect.
Flies of choice were General Practitioners, Same-Thing-Murrays, Green Highlanders, Ally's Cascades and Undertakers.
Herb Barry Sr. of Herb's Fly Shop on the Station Road in Blackville said anglers were catching some, and some of the catches were good sized.  He had heard a lot of good reports from the Cains.  Water conditions were good.  Ironically, he noted that this year was a good one, but few local anglers bothered to get a licence.  One sport felt so positive about this year that he spent close to $100.00 on flies for next season.
Flies of choice were Ally's Shrimps, General Practitioners, LT Specials, some orange-butt Squirrel Tails and a few Green Machines.
Curtis Miramichi River Outfitting in Blackville said fishermen were getting some on both the Main Southwest Miramichi and the Cains.  Generally, catches were a good mix of salmon and grilse.  Water conditions were perfect.  Over all they called it a good season.
Flies of choice were Ally's Cascades, Ally's Shrimps, General Practitioners, LT Specials, and Orange River Shrimps.
George Routledge of George's Fly Shop at the Mouth of Renous in Quarryville was unavailable for comment.
Jim Laws of Miramichi Hunting and Fishing in Newcastle, Miramichi reported very good water conditions, but not a lot of anglers out.  Those that were, were catching some fish.
Laws said that the Striped Bass are back in Miramichi and there are some bigger fish being hooked.
Flies of choice were a variety of traditional Fall patterns
Syd Matchett of Trout Brook Fly Shop on the Northwest Miramichi said fishing had been good.  Anglers were seeing lots of fish.  One angler caught a salmon, and most who were out reported fish.  One camp reported 19 fish on the weekend.
Flies of choice were Marabous, Ally's Shrimps and LT Specials (anything that seemed to have a long tail)
Debbie Norton of Upper Oxbow Outdoor Adventures on the Little Southwest Miramichi said they have been catching some fish this week, but mostly higher up on the rivers that they fished.  Jeff Hall of Oakville, Ontario landed a nice 36-inch salmon, while Ted Yukush of Trumbull, Connecticut had a 30-incher.  Paul Elson caught several in the 40-inch range this past week.  Water conditions were good.  Over all, she felt we had a better season than last year.
Norton noted that the Striped Bass were back in the Miramichi area.
Flies of choice were No. 8 Shady Ladies and pink & purple Marabous.
So with a better season this year than last, it bodes well for the future.  Next week I'll try to have the very latest counts from the various barriers.
Don't forget to show your support for our sponsors, because without them, this column would not be possible.
Check out Deals 4 U in Miramichi for your grocery needs, and good Cuban cigars to celebrate getting back to the rivers. Drop by Mac's Seafood Market to get all your seafood needs and more!
[wp_bannerize group="doug7″]
ANY FINANCIAL CONTRIBUTIONS TOWARD HELPING WITH THIS COLUMN ARE GREATLY APPRECIATED. Click here to donate now. A SPECIAL THANKS to all who made contributions last season.
If you would like to sponsor this column, give us a call at (506) 352-7668 or email .
Thought for the Week: "There is certainly something in angling that tends to produce a serenity of the mind." – Washington Irving
Email:
Fish and Hunt for 10 Years Free !
The New Brunswick Wildlife Federation with support from the Department of Natural Resources announces the first ever Fishing and Hunting License Lottery where one successful Sportsperson will receive free angling and hunting* license for 10 years. Click the links below for more information:
Online Ticket Request Bilingual 2016
A New Book on Connecticut Atlantic Salmon Fishing !
The CRSA is pleased to announce that just in time for the 2015-2016 CT Atlantic Salmon Season;  Author, Jazz Musician, fly fisher Ben Bilello has released his new E Book – "Flies for Connecticut Atlantic Salmon: How to Tie and Fish Them". It is available in a pdf version for all devices and an enhanced version for Apple devices….
Read on »
Salmon Angling Season opens
Last week, the CT DEEP stocked the Naugatuck and Shetucket Rivers with 3+ year fresh, feisty, non spawned Atlantic Salmon as part of their  Connecticut Atlantic Salmon Legacy Program. We have one angler reporting catching and releasing 7 beautiful silver leapers since Tuesday. The week before, Mt Tom Pond and Crystal Lake were stocked with 2+…
Read on »
Atlantic Salmon Federation News – Friday, Oct. 2, 2015
Beautiful Fall Rivers with Salmon Moving
~~~~~~~~~~~~~~~~~~~~~~~~~~~~~~~~~~~~~~~~~~~~~~~~
The deluge came, and for some rivers the salmon began moving. For others, it could be the upcoming rains. Read more, and check out the Jacquet River run:
http://atlanticsalmonfederation.org/rivernotes/
West River – Sheet Harbour Fence Downed
~~~~~~~~~~~~~~~~~~~~~~~~~~~~~~~~~~~~~~~~~~~~~~~~
ASF's Lewis Hinks details recent events on the West River – Sheet Harbour. The great flow of water on this limed river took out the new counting fence. Check the short video, and also the news that adult salmon did return this year.
http://asf.ca/news-from-the-regions.html
ASF Research Blog Update
~~~~~~~~~~~~~~~~~~~~~~~~~~~~~~~~~~~~~~~~~~~~~~~~
Water levels have also impacted the ASF Research staff's field work in the past two weeks. Check out details.
http://asf.ca/research-in-the-field.html
Check out the Response of Canada's Federal Parties on their Atlantic salmon views
~~~~~~~~~~~~~~~~~~~~~~~~~~~~~~~~~~~~~~~~~~~~~~~~
There was a server glitch last time we drew viewers' attention to this, but all is well now. You can download the exact statements offered by the parties. The Conservatives, however, did not respond.
http://asf.ca/response-of-canada-federal-party-leaders-on-atlantic-salmon.html
NL Wildlife President Rick Bouzan Charged with Salmon Poaching
~~~~~~~~~~~~~~~~~~~~~~~~~~~~~~~~~~~~~~~~~~~~~~~~
Rich Bouzan is alleged to have been caught with untagged salmon. Read more.
http://asf.ca/nl-wildlife-federation-president-rick-bouzan-charged-with-s.html
~~~~~~~~~~~~~~~~~~~~~~~~~~~~~~~~~~~~~~~~~~~~~~~~
The Dungarvon barrier came down during last Wed./Thur. rain. It was down until yesterday (Oct. 5th, 2015) at noon when it became operational again. They received approximately 140mm of rain and there was a foot of water over the trap and boardwalk Thursday morning. The lower and upper barriers as well as the trash fence fell in the early hours of October 1st. The trap and boardwalk held.
SALMONID INVENTORY AT CONTAINMENT/COUNTING FENCE SITES
Department of Natural Resources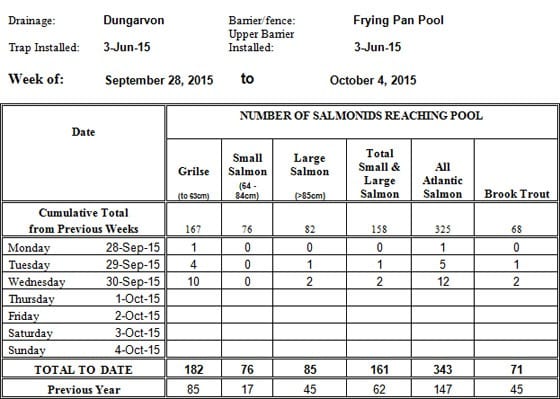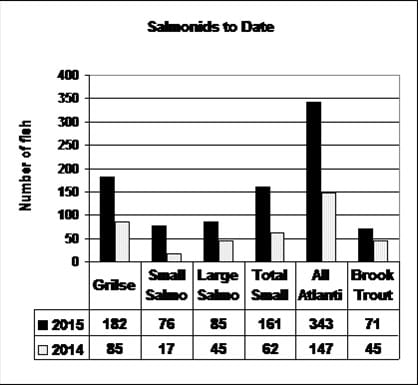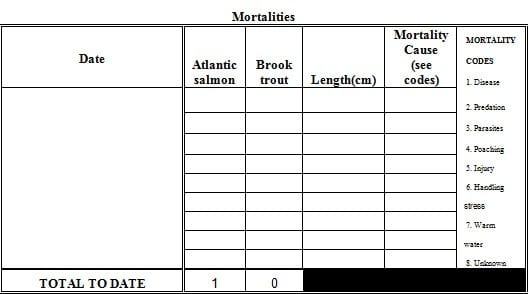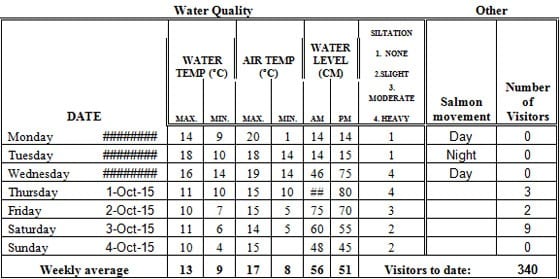 COMMENTS:
Sept. 30th – Heavy rain all day.
Oct. 1st – 3 am the trash fence and upper barrier fell. At 5 am the lower barrier fell.
Oct. 5th – Lower barrier was reinstalled and counting fish by 12 noon. Barrier was inoperable for five days.
SALMONID INVENTORY AT CONTAINMENT/COUNTING FENCE SITES
Department of Natural Resources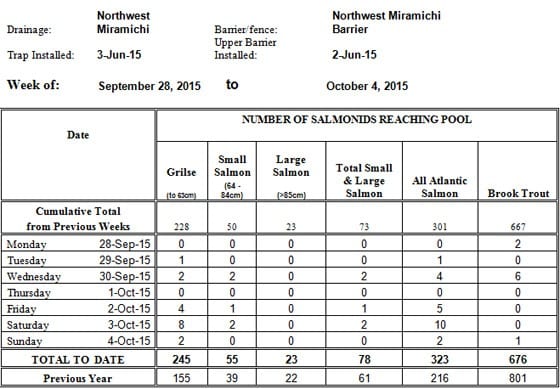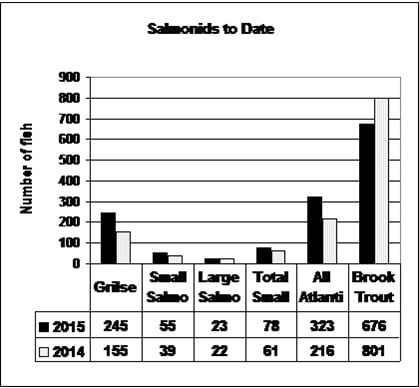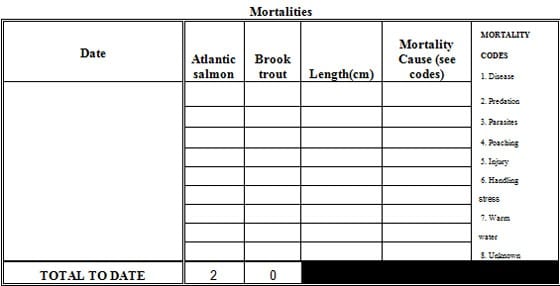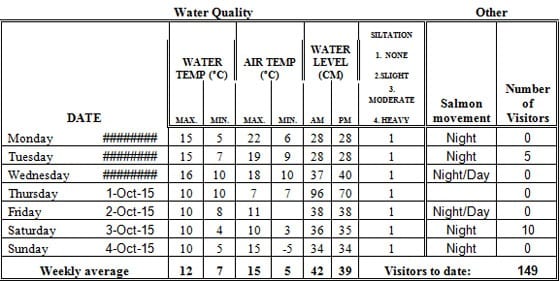 Until next week
TIGHT LINES
DOUG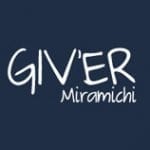 Giv'er Miramichi is about "What's up, what's new, what's happening". We are focused on building people up, supporting one another and celebrating our successes.