This Old Thing with Bernie Colepaugh

In our October print edition Bernie Colepaugh of the Miramichi Folklore Park in Renous shared a photo of an old item. This time was different from all the other items Bernie has submitted because even he didn't know what it was and he was looking for ideas from our readers.
When we went to print for the December/ January issue nobody had contacted us with any ideas, suggestions or guesses. So we thought we would print the photo one last time in case readers missed it before and see if we could get some suggestions for Bernie. Since the print issue dropped in the community, we have had some interesting ideas come in, but before we reveal all in our next print edition we wanted to give our readers on the internet a chance to weigh in.
"It has a four foot handle and a coiled metal spring on the end which can be detached on either side. I have no idea of its purpose," Bernie says.
Do you have any ideas about what this is? If you think you know we invite you to email your best guess to . Include "This Old Thing" in the subject line. Next issue we'll publish some of your answers and find out from Bernie whether he thinks you've helped him figure it out.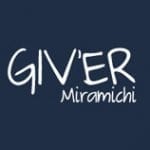 Giv'er Miramichi is about "What's up, what's new, what's happening". We are focused on building people up, supporting one another and celebrating our successes.