Miramichi Fishing Report for Thursday, May 5, 2016
The spring angling season continues to unfold as anglers are out for Spring Salmon, Trout and Striped Bass.  All three are reporting reasonably good fishing.
The retention period for Striped Bass 50-65 centimeters in length begins Monday May 9 and runs to May 29, 2016.  Remember the limit is one a day, not to be confused with the possession limit which is also one.  Don't put 2 in your freezer.
[wp_bannerize group="doug9″]
W. W. Doak and Sons in Doaktown said anglers were still catching good numbers of both salmon and grilse.  They had heard fishing was still productive in the Carroll's Crossing area.  The water temperature was staying cold between 46-48 degrees Fahrenheit, and as such the fish are a bit reluctant to drop down river just yet which should give anglers at least another good week of spring fishing.  Anglers were picking up some nice fish in the 40 plus inch range.  Generally the fish looked to be in good shape as they were quite bright and put up a good fight. They had heard that there were good numbers of black trout in the 3 to 4 pound range being caught.  The water was very clear, but getting low, so one had to be careful when running motors.
Flies of choice were Black Ghosts, Renous Specials, Christmas Trees, and a variety of Smelt patterns.
Derek Munn of Ledges Inn in Doaktown and Mountain Channel in the Rapids area said they were still getting good spring fishing.  On Sunday they had hooked a 41 and a 42 inch salmon.  The water was low and the clearest he has ever seen it.  He also added that some black trout in the 14-15 inch range were being caught.
Flies of choice were small Black Marabous, Mickey Finns, Black Rabbit Strips, Brown Rabbit Strips, and Green Slimes.
Photos: Ledges guests Nate Holyoke & Jamie Holyoke with a couple nice spring salmon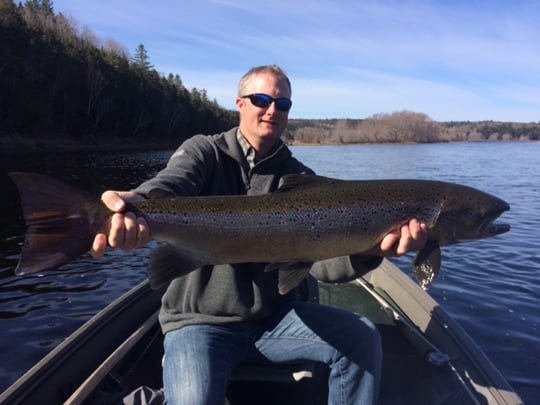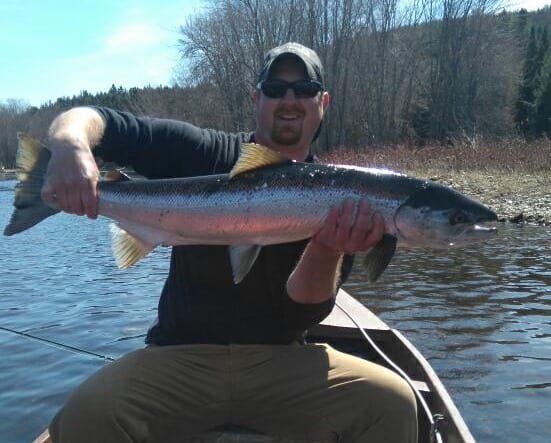 Herb Barry Sr. of Herb's Fly Shop on the Station Road in Blackville said there were still spring fish around with a good mix of salmon and grilse being caught.  He had also heard of good numbers of 3-4 pound trout being hooked.  The water was low and clear.
Flies of choice were Golden Eagles, Red Eagles, Renous Specials, Christmas Trees, Blue Smelts, Silver Smelts and Gold Smelts.  In short, almost everything was working.
Curtis Miramichi River Outfitting in Blackville said anglers were still catching good numbers of spring salmon with a good mix of salmon and grilse.  There were a good number of trout reports in the 3 to 4 pound range, and one five-pounder.  The water was low and clear.
Flies of choice were Muddlers for trout and Black Ghosts and Renous Specials for salmon.
Jim Laws of Miramichi Hunting and Fishing in Newcastle, Miramichi reported some spring salmon and grilse still being caught.  There were also some nice 12-14 inch trout being hooked, but they were black trout or river trout, certainly not new sea trout.  There were decent numbers of striped bass being caught in sizes from small to large, but the great bass fishing had not started yet.
Flies of choice were Black Ghosts, Golden Eagles, Renous Specials and Mickey Finns.
Syd Matchett of Trout Brook Fly Shop on the Northwest Miramichi said angling for spring salmon was still pretty decent with a good mix of salmon and grilse, and anglers were also picking up some nice trout.  He'd heard of one Northwest salmon measured at 42 inches.  The water was getting low.
Flies of choice were Marabous, Black Ghosts, Renous Specials and Winnipesaukee Smelts on 3-0 hooks, with some anglers starting to move to no. 4 hooks.
Debbie Norton of Upper Oxbow Outdoor Adventures on the Little Southwest Miramichi said they were still catching some spring salmon.  The smelts had arrived about two weeks ago and the salmon were beginning to jump, and starting to leave.  Anglers there were moving from full-sink lines to sinking tips as the fish were coming to the surface.
While angling during the kelt collection days last week, Christopher Mscisz of Boston hooked into a 55-inch monster.  When MSA arrived with the collection bins which were 52 inches long, this beauty wouldn't fit, so it was immediately released.  A total of 25 kelts (out-migrating spring salmon) were fitted with transmitters so they can be tracked well into the ocean for research purposes.  Some trout in the 12-14 inch range were also being picked up.
Flies of choice were Renous Specials, Mickey Finns, Golden Eagles and Black Ghosts.
So with spring salmon still around, some river trout and striped bass all in the system, it is time to get out and "on the water".
[wp_bannerize group="doug1″]
Don't forget to show your support for our sponsors, because without them, this column would not be possible.  
Deals 4 U and Bradford Burns' Closing the Season.
ANY FINANCIAL CONTRIBUTIONS TOWARD HELPING WITH THIS COLUMN ARE GREATLY APPRECIATED. Click here to donate now. A SPECIAL THANKS to all who made contributions last season.
If you would like to sponsor this column, give us a call at (506) 352-7668 or email .
Thought for the Week: "When in doubt, exaggerate"  -Anonymous.  Sure makes a better fishing story!
CONDOLENCES:  Sympathies go out to the family and friends of Patrick "Hoppy" Dunn who passed on this week.  Hoppy was an avid outdoorsman and extremely well known as "The Sporting Voice of the Miramichi" who used phrase "from the Head-waters of the Miramichi to the Farewell buoy".  Cast a fine line my Friend.  You'll be missed by many!
E-MAIL:
Hi, saddened to hear of George's passing. Known him for many years and always looked forward to stopping in and chatting.  As time went by I saw it taking its toll.  He was  great fella,  he will be missed…….
Randy Campbell
---
Hi Doug-We don't know each other But I really enjoy your weekly report …particularly this week because of your ability to touch people's hearts with your kind words.
Nice Tribute and fitting story on George entering the Pearly Gates. Everyone on the River knew that man and I only ever experienced the same from him. I left a reel in Blackville on the bank one day about 20 years ago only to have it turn up at Georges. I could go on but you knew him better than I did. Thanks for sharing,
Barry W Bransfield.
---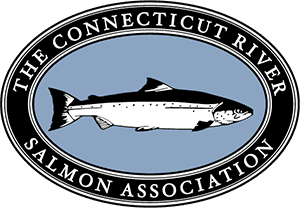 MCC Community Science Lecture May 2nd
Rachel Mintell, our Salmon-in-Schools instructor at Manchester Community College, and her students will be giving a talk on Atlantic Salmon on Monday, May 2nd at 4:30pm in room LRC A142. The event is free and open to the public.
Read on »
---
Until next week
TIGHT LINES
DOUG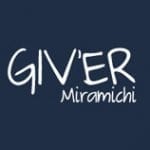 Giv'er Miramichi is about "What's up, what's new, what's happening". We are focused on building people up, supporting one another and celebrating our successes.