Miramichi Fishing Report for Thursday, May 19, 2016
Normally, this time of year is what we call the "in-between season" on the Miramichi as spring salmon season is virtually over, and the bright salmon and sea trout have not arrived yet.  But in recent years, this hole has been filled adequately with Striped Bass, and during the last few weeks, angling has been very good for them.
This weekend is the annual Red Bank Trout Derby, and the next weekend is The Miramichi Striper Cup.
[wp_bannerize group="doug1″]
W. W. Doak and Sons in Doaktown said angling was quiet as we are in the "in-between season" with only an odd spring salmon being caught and a few river trout in the Doaktown area, one of which was 2 ½ pounds.  However, there are not very many anglers on the river at this time of year, so a totally accurate report is in question.  Water conditions are good.  There have been no hatches to match as of yet, so anglers are mainly using and buying wet flies.
Flies of choice were Green Machines, Butterflies and Muddlers.
Derek Munn of Ledges Inn in Doaktown and Mountain Channel in the Rapids area spring salmon were over.  There were some river trout being hooked, but there was basically very few anglers out in the Doaktown area.  Munn took his sport over to the Northwest on Tuesday where they picked up a 38-inch salmon and a lovely six pound trout.
Flies of choice were Black Marabous.
Herb Barry Sr. of Herb's Fly Shop on the Station Road in Blackville said it was pretty quiet there as far as angling was concerned.  There were some black or river trout in the 12-14 inch range and only the odd spring salmon.  Water conditions were good.
Flies of choice were mainly Muddlers for trout in three different patterns: brown, black and green.
Curtis Miramichi River Outfitting in Blackville said angling was quiet with not a lot of anglers out.  Most anglers were down river fishing for Stripers.  A few river trout were being hooked.  Water conditions were good, especially for canoeing.
They noted that they have a few opening for their Fly Casting Clinic on Saturday, May 28 from 8:30 a.m. to 4 p.m.  Cost is $95.00.
Flies of choice were Muddlers for trout.
Jim Laws of Miramichi Hunting and Fishing in Newcastle, Miramichi reported very few spring salmon, but a few nice trout in the 4 to 5 pound range, but very few smaller trout being hooked.  The big buzz was Striped Bass which are being caught in extremely good numbers in the city area.  Water conditions were good.
Flies of choice were mostly wets such as Green Machines and Muddlers.
Syd Matchett of Trout Brook Fly Shop on the Northwest Miramichi said there were no reports of any bright salmon or trout yet, but anglers were still picking up a few spring salmon and some black trout.  One angler landed three salmon on Sunday on a Red Eagle.  The smelts were still in on the Northwest.  Water conditions were excellent.  Then he mused that since Doug Chase and Danny Roy were both in his shop at the same time, there must be no fish in the river.
Syd has always maintained that when we see the first Yellow Butterflies, the bright salmon are in the river, so keep your eyes not only on the water, but take a few peeks around the fields as well.
Flies of choice were Winnipesaukee Smelt, Red Eagles, Black Ghosts and Renous Specials.
Debbie Norton of Upper Oxbow Outdoor Adventures on the Little Southwest Miramichi said the spring salmon were finished and there were no significant reports of trout.  The smelts had also gone from the Little Southwest.  However, anglers were catching lots of Striped Bass in the estuary.  Smolt collection will probably wrap up this week.  Norton said that she had received an e-mail stating that a bright salmon had been hooked on the Restigouche River.
Flies of NON-choice were swatable Black Flies in good numbers and on the move.
[wp_bannerize group="doug10″]
So with lots of Striped Bass, decent numbers of river trout, the anticipation of bright sea trout and bright salmon, not to mention canoeing and fiddleheads, it is time to get out and "on the water".
Don't forget to show your support for our sponsors, because without them, this column would not be possible.  
Deals 4 U and Miramichi Marine.
ANY FINANCIAL CONTRIBUTIONS TOWARD HELPING WITH THIS COLUMN ARE GREATLY APPRECIATED. Click here to donate now. A SPECIAL THANKS to all who made contributions last season.
If you would like to sponsor this column, give us a call at (506) 352-7668 or email .
Thought for the Week: ""Things fishermen know about Trout aren't facts, but articles of faith."
~ John Gierach
E-MAIL:
A few nice stripers caught last weekend.  Special thanks to guide Jamie Sullivan.
Jeff Morris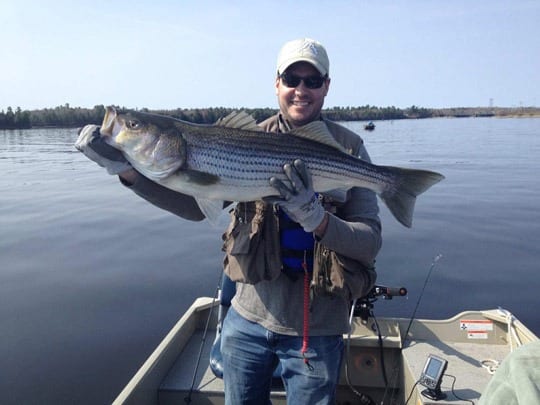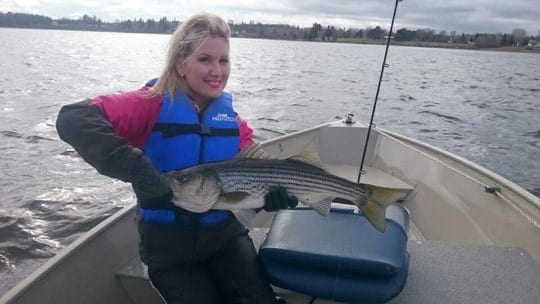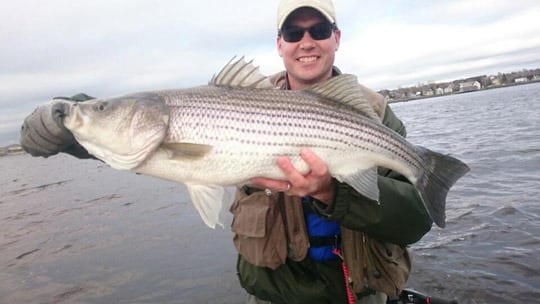 ---
Here's a video from the other day striped bass fishing…..I was blown away when I uploaded the underwater footage!
Cheers,
Sean Dolan
---
Downeast Maine Smolt Bolt and Bloater Bash
For another take, our friends at the Downeast Salmon Federation are celebrating World Fish Migration Day with a "Smolt Bolt (yes it's a running event) and Bloater Bash" . Registration and packet pickup starts at 8am, the race starts at 10am, with smoked alewife cookout to follow! Visit www.mainesalmonrivers.org for more info and to register….
Read on »
World Fish Migration Day CT Events
Here's the list of CT events for World Fish Migration Day thanks to Steve Gephard of the DEEP WFMD CT Events List 2016
Read on »
Enjoy a great Film Festival and support two great causes
What?: The International Fly Fishing Film Festival – IF 4 – 2016 (www.flyfilmfest.com) For: The fun of it and….. A Fund Raiser for two great causes: Rivers of Recovery (www.riversofrecovery.com) and Take a Vet Fishing(of CT) (www.takeavetfishing.org) Host: Yale Fly Fishing Club with support from 3-Tand Fly Reels (www.3-tand.com) When: Friday, May 20,2016, 7:00PM.
Read on »
Until next week
TIGHT LINES
DOUG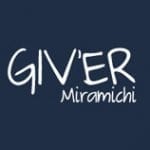 Giv'er Miramichi is about "What's up, what's new, what's happening". We are focused on building people up, supporting one another and celebrating our successes.