Minor Hockey Registration Starts Now
Avoid the Line-ups. Registration is now open for all minor hockey players in Baie Ste Anne, Miramichi, Renous, and Sunny Corner. Click here to register online. Register at a time and location of your choosing.
You will need a credit card and a Medicare card to complete the registration, as well as a valid email address. You will also need a desktop or laptop computer (tablets and phones will not work). Please take the time to read all instructions and policies. A successful online registration with credit card will generate two separate emails. If you are having problems, please contact the .
In person registration for Miramichi will happen at the Golden Hawk Recreation Centre on Saturday September 10th from 9 am to 12 noon. Cash or cheque payments will be accepted at that time. This will also be the time and location for the Miramichi organized sports swap (see details below).
In person registration for Baie Ste Anne, Renous, and Sunny Corner will happen at a later date, your local organization will advise the details of time and location. Cash or cheque payments will be accepted at that time.
Rogersville hockey players will be registering on their own, your local organization will provide the details.
_________________________________________________
Miramichi's 1st Annual Organized Sports Swap
Donate your unused sports equipment!
Drop off any unused sport equipment or clothing for any organized sport to the Miramichi Leader office, 2428 King George Hwy (across from Kent Building Supplies) OR you can drop them off at the Golden Hawk Recreation Centre on September 9th from 4 to 9 pm.
There will be an ORGANIZED SPORTS SWAP on September 10th, 9 am to 12 pm at the Golden Hawk Rec Centre during the Fall Registration.
Bring your child in to try on any equipment he or she might need for the upcoming season.
This Sport Swap will have FREE equipment for those children who need it, while supplies last.
Please participate in donating sports equipment to help offset the cost of registration so that all children will be able to be active in our community.
We're asking for equipment in good to excellent condition for any sport such as: HOCKEY, FIGURE SKATING, TAE KWON DO, SOCCER, BASKETBALL, VOLLEYBALL, BASEBALL, and GYMNASTICS to name a few.
If you have any equipment or clothing that your child has outgrown, please donate your items for another child to use.
The success of our first Sports Swap depends on our community participating so please donate to this event for the children.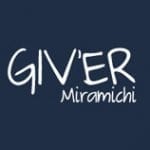 Giv'er Miramichi is about "What's up, what's new, what's happening". We are focused on building people up, supporting one another and celebrating our successes.