Timberwolves Edge Ramblers 4-3 in Last Pre-Season Match
The Miramichi Timberwolves defeated the Amherst Ramblers 4-3 at the Miramichi Civic Centre on Sunday September 4th.
The Ramblers took the lead early with a short handed unassisted goal from Eddie Banville at 7:25 in the 1st Period. Matt Lapointe brought the score to 2-0 on the Power Play at 14:05 assisted by White and Grenier. The Timberwolves got on the scoreboard at 11:23 in the 2nd Period with a Power Play goal by Lee Dower assisted by Constantine and Cusson. Dower tied things up at 5:32 in the 3rd assisted by Cusson and Uhrich. Makail Parker scored at 6:39 to give the Timberwolves a 3-2 lead over the Ramblers assisted by DesRoches and Cloutier. But the Ramblers tied things up again at 7:39 with a goal by Layton Parsons assisted by Sartois and Kosik. Riley Scott came right back at 7:55 to score the game winning goal for the Timberwolves assisted by Power.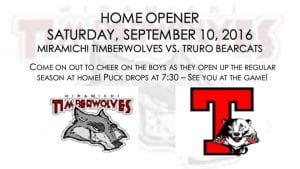 The 1st Star of the game went to Miramichi Timberwolves #3 Lee Dower, while Miramichi Timberwolves #16 Matt Cusson took the 2nd Star, and the 3rd Star went to Amherst Ramblers #29 Joel Goguen.
Miramichi finished the pre-season with a 2-1-0-1 record.
The Timberwolves face off against the St. Stephen Aces in their regular season opener at the Garcelon Civic Centre this Friday night September 9th, before their big home opener against the Truro Bearcats this Saturday September 10th. Bring the noise! Game time is 7:30 pm.
Click to enlarge any of the photos below from Sunday's game. Photos courtesy of Greg MacDiarmid for the Miramichi Timberwolves. For more information about your Miramichi Timberwolves, visit their website at www.miramichitimberwolves.ca.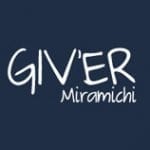 Giv'er Miramichi is about "What's up, what's new, what's happening". We are focused on building people up, supporting one another and celebrating our successes.