19th Annual NSPA/ MSA Conservation Dinner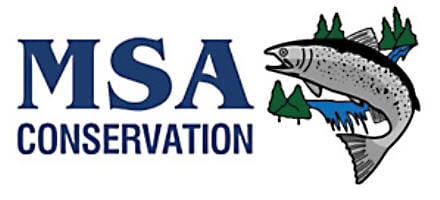 This year's Northumberland Salmon Protection Association/ Miramichi Salmon Association (NSPA/ MSA) 19th Annual Fund Raising Dinner will be held Tuesday March 14th, 2017 at the Rodd Miramichi. Please come out and join us in our efforts to raise the funds necessary to carry on the conservation work required to sustain and protect our remaining salmon resource. You can support the NSPA/ MSA Annual Dinner in a number of ways:
Purchase one or more Dinner tickets at $50 each;
Grab a bunch of friends and purchase a Reserved Table of eight tickets for $400;
Be recognized as a Dinner Sponsor by purchasing a Salmon Table for Conservation for only $500 – you'll receive 8 Dinner tickets, your name/ logo will appear in the dinner program, plus you'll get a tax receipt for your additional $100 gift.
Last but not least, if you can't attend this year's Dinner, please consider donating an item to our Auction and/ or Raffle (or just make a small tax deductible cash donation to help us underwrite the costs of staging the Dinner).
To purchase your ticket(s) and or to donate an item to our Auction or raffle, please contact Kate at  or call at 506-622-4000.

Since 1953, the Miramichi Salmon Association (MSA) and its members have directed their capabilities and their funds to the protection of the entire Miramichi River system. The MSA watches over the Miramichi as a champion of conservation on behalf of anglers, outfitters, guides and all others with economic, environmental and recreational interests in the river.