WORDS on WATER Book Launch: "The Effect Of Frost On Southern Vines"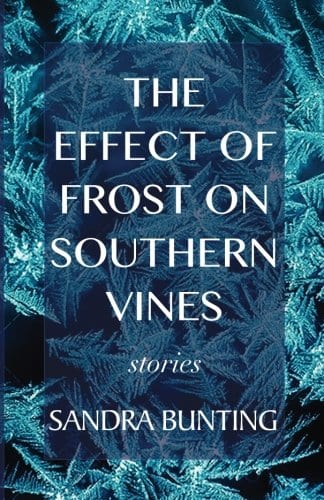 Miramichi's Words on Water performance art series will host a book launch for The Effect Of Frost On Southern Vines by Sandra Bunting at the Rodd Miramichi River Hotel, 1809 Water Street in Chatham on Tuesday March 28th, 2017 at 6:30 pm.
The Effect of Frost on Southern Vines is the debut short fiction collection from Canadian writer and poet, Sandra Bunting. It brings together stories that are broad-reaching yet have a strong sense of place, resonant with personal struggle, yet evincing an earthy humour throughout. They are set in Canada, Ireland and further afield.
About the Author
Sandra Bunting writes poetry, fiction, non-fiction and journalistic articles. She grew up on the east coast of Canada and was awarded a BA in Radio and Television Arts from Ryerson in Toronto and an MA in Writing from National University of Ireland (NUI) in Galway. After working for CBC News, Toronto, she moved to Europe and lived in the north of France, Madrid, Dublin and Galway. She returned to Canada in 2011 and established herself in Montreal and Northern New Brunswick.
Sandra is currently on the editorial board of the Galway-based literary magazine, Crannóg, and is running her own company, Gaelóg, which offers writing and editing services besides ESL training and assessment and workshops.
In her academic career, Sandra gave poetry seminars at NUI in Galway, where she also set up and managed the Academic Writing Centre. She also taught English as a Second Language and was involved in Teacher Training.
She is a member of the Writers' Federation of New Brunswick, the Miramichi writers' group Words on Water, Quebec Writers' Federation, Elan (The English Language Arts Network) and the Galway Writers' Workshop.
In 2012 she was awarded a Glenna Luschei award for poetry through the Prairie Schooner, University of Nebraska. She was runner-up for the 2006 Welsh Cinnamon Press First Novel Competition and was a finalist at the 2009 Irish Digital Media Awards for her Blog: "Writing a Novel Online".
"The Effects of Frost on Southern Vines is a very delightful collection of short fiction, and as it is Ms Bunting's first offerings of prose, it is a fine accompaniment to her acclaimed works of poetry," wrote The Miramichi Reader, James M. Fisher in a recent review of Sandra's new book.
Words on Water is Miramichi's longest running performance art series featuring poetry, prose, spoken word, music, and art. Find them on Facebook @wordsonwatermiramichi