Miramichiers Who Giv'er! Meet Lloyd Cameron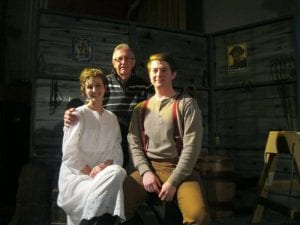 by Anthony McLean
Recently I had the privilege of interviewing another Miramichier who knows how to Giv'er! Each of the people I have interviewed so far for this regular feature have affected me in some way. After I conducted this interview, I paused and reflected on our conversation. He definitely represents the kind of man that I aspire to be.
I felt at ease talking to him. He was calming, witty, genuine, and I am proud to have him as a friend. When I asked him what the word "giv'er" means to him, he replied "Participation, giving back, contributing and sharing your gifts and talents to enhance others and the community around you." And throughout his lifetime on the Miramichi, he has certainly done that. We met at the Creative Grounds Cafe in Chatham and this was my conversation with Lloyd Cameron.
AM: What was your childhood like?
LC: I grew up in Loggieville on a little farm in a family of nine (five girls and four boys). Four were born before the Second World War and five after, so it was like two families with such a large age gap between each group of siblings. I am the middle in the second family. It was a fun idealized childhood, not like today, as young people don't utilize the creative outlet of playing outside, rather spending a lot of time indoors with video games. We did a lot of exploring in the woods, went swimming in the summertime almost everyday, either at Tyrrell's Point or over the bank at Kingston's shore, played a lot of cricket and baseball and did farming chores. My family had chickens, cows, horses and pigs. We always had a large garden, and in the autumn we did haying. Our house was situated among five other farms that in most cases had an individual of the same age, which gave us about four or five playmates in the neighbourhood.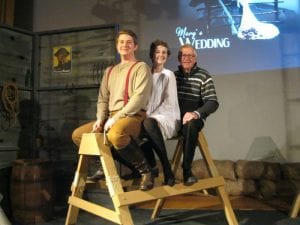 AM: Where did you attend school?
LC: I graduated from Chatham High School in 1968, and then went on to Teacher's College in Fredericton, and then to UNB Fredericton for my Bachelor of Arts and Bachelor of Education. In the summertime while I was going to University, I worked on the Survey Crew for the Department of Highways and was a caretaker of the Pine Grove Cemetery, using a "push" mower and not a "sit-on" mower. I taught at Chatham Junior High School for 16 years, which later became Dr. Losier Jr. High, with one year out in Donnelly, Alberta teaching Reading and Resource to Grades 1 to 3 and then James M. Hill Memorial High School for 17 years, from where I retired. I worked for 33 years in the Education system.
AM: What did you enjoy most during your career?
LC: I taught Language Arts at the Middle School, English Literature and Theatre Arts at the High School level as well as being the English Department Head. Overall, I thoroughly loved teaching, interacting with the students, and exposing them to different themes and concepts in all genres of literature and introducing them to the wonderful world of reading. As well, I enjoyed my involvement with theatre and drama, which is a passion of mine.
AM: What motivated you to create Double L Productions?
LC: I have been passionately involved with theatre since High School. I directed one-act plays, of which I took to the Provincial Drama Festivals for 31 years in a row. I was involved in, directed and produced plays for the Miramichi Choral Society. I also had been an actor in the Miramichi Players, the Loggie House Players and other adult drama groups. After I retired, I missed being actively involved in theatre, so I decided to form my own company. Double L Productions was founded in September 2006, right here in the Miramichi. My first production was held at the Beaverbrook Kin Centre and it was the musical comedy Nunsense. Others include: Godspell, Blithe Spirit, Love Letters, Julian, The Fantasticks, Love, Loss & What I Wore, Mary's Wedding, and most recent was Waiting For The Parade. As well, I was an Assistant Director with Sam Crowell for his play On The Wind. It is difficult to say which would be my favorite, as each production provided a personal level of satisfaction with its creation and development of characters. The greatest satisfaction comes from working with the amazing talented individuals who act as the characters to bring my vision to life.
AM: Besides Double L Productions, do you do any volunteering in or around the community? Do you have any other hobbies and interests?
LC: Yes, I enjoy photography, kayaking, music, anything to do with the Arts, movies and I am avid reader—BIG TIME! I am on the Board of Directors for the W.S. Loggie Cultural Centre, serving as treasurer, Chairperson on the Board of the Vogue Group, treasurer of the Miramichi Liberal Association, and am an active member of Saint Andrew's United Church, Wellington Street, having just finished a three year term as Chair of the Council. As well, I assist behind the scenes with other various organizations in the area. I received recognition for Community Volunteerism from the Province of New Brunswick on Canada Day one year, and was recently inducted into the James M. Hill Wall of Fame by the James M. High School Alumni Association, which was a tremendous and humbling honour.
AM: Is there anything you'd like to add?
LC: I would like to say thanks for the continuous support the community has shown Double L Productions since its founding and also to the individuals who have donated their time and energy both on and behind the scenes of each production, which is very much appreciated.
Anyone interested in being involved in theatre, whether it be acting, being a stage hand, constructing sets, or working on the production crew, can contact Lloyd at lloydecameron @yahoo.ca or call him at 506-773-5101
Do you know a Miramicher who knows how to Giv'er? We are now accepting nominations for our regular feature profiling people from the region who Giv'er in everything they do! From volunteer work to being successful business owners, the very best employees, parents, role models and more. If you know someone who constantly goes above and beyond to contribute to the community, we want you to tell us about them! Email your nomination to with a brief description telling us why you think this person deserves to be profiled. Look for more Miramichiers Who Giv'er in future issues!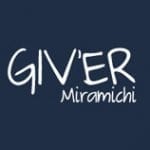 Giv'er Miramichi is about "What's up, what's new, what's happening". We are focused on building people up, supporting one another and celebrating our successes.