Beaubears Island Tall Ship Programming

As the fair winds and brighter days are now upon us, the people of the Miramichi know that these fine breezes carry with them the much-vaunted vessels of the Festival of Tall Ships on the Miramichi.
Among the many locales where our province's rich maritime history will be lauded, the Beaubears Island Interpretive Centre will surely be a central hub of celebration.
Join The Friends of Beaubears Island this July 8th for a variety of historically inspired events! Canoe tours will be departing from Ritchie's Wharf in Newcastle beginning at 10AM to 2PM, on the hour. These tours will take you up close and personal with the Tall Ships, while enjoying the natural beauty of the Miramichi River.
After your canoe tour, beginning at noon, we request the pleasure of your company on Beaubears Island for a Historical Picnic. Replicating the same city-wide picnic hosted by Peter Mitchell in 1872, you may dine with the likes of John Mercer Johnson, William Davidson, Charlotte Taylor, and more! A photographer will also be onsite, along with historical garb for visitors to be photographed in. Lunch is complimentary, and there is a small fee of $5 for the ferry ride.
To finish off the day, journey back in time at Wilson's Point for our first Graveyard Tour of the year, where the lines blur between the dead and the living. Ghosts roam the woods freely, seeking anyone to share their sorry tales with. The tour begins at 9PM, with a cost of $10.
Still hungry for more?
There will be a lecture series Sunday July 9th beginning at 10AM featuring subjects such as pirates, the Henderson Property, and shipbuilding on the Miramichi. As the last untouched historical shipbuilding site in the province, Beaubears Island embraces local history and shipbuilding history from around the world.
For more information, call 622-8526 or visit beaubearsisland.ca. Or find them on Facebook @beaubearsisland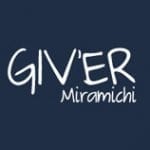 Giv'er Miramichi is about "What's up, what's new, what's happening". We are focused on building people up, supporting one another and celebrating our successes.