Miramichi Fishing Report for Thursday, July 6, 2017
The Coalition for Better Salmon Management, (CBSM), has put out a press release calling on DFO to reinstate Grilse harvest tags for the balance of the 2017 salmon fishing season.  The press release can be viewed on its website at salmonnb.com
MIRAMICHI – Numbers of fish in the Miramichi system continue to improve slightly each week.  To date there has not been what we would call "a run of fish".  However, each day seems to produce small spurts of fresh fish.  If anglers happen to be in the right place at the right time, then fishing is great; but if not, there are "no fish".  So this week's report lies somewhere between these two opinions.
W.W. Doak and Sons in Doaktown said there were a few fish around throughout the system, including some grilse.  One camp in the upper part of the river had four rods and hooked four fish and lost six.  Another camp had a 37 inch hook bill, a bit unusual for this time of year.  There was a 37 pound female salmon at one camp and a 16 pounder at another.  A couple of other anglers hooked five and landed two.  Generally, the fish were moving through and not showing too often.  Over all, fishing was adequate, but one had to sometimes work hard for success.
Flies of choice were White-tailed Green Machines, Same-Thing-Murrays, Glitter Bears and Shady Ladies on no. 6 hooks.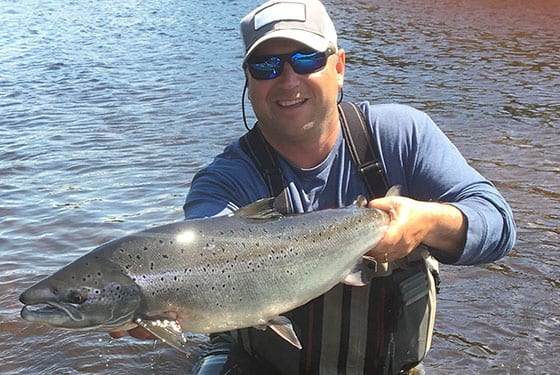 Andrew Anthony of Ledges Inn in Doaktown and Mountain Channel in the Rapids area said Mountain Channel had seen fish every day except Monday, and fish were being hooked here and there, although angling was so-so.  Ledges had eight fish this past week, with most being female grilse.  The water was a good level, with temperatures ranging for low 60s Fahrenheit in the mornings to high 60s in the evenings.
Flies of choice were Undertakers, Smurfs, White-tailed Green Machines, Bonnie Bells and Christmas Trees on nos. 8 & 10 hooks.
Herb Barry Sr. of Herb's Fly Shop on the Station Road in Blackville said there were fish around, but in no great amounts, with most being grilse.  There were not a lot of anglers around, but per capita, results were good if one fished hard.  They had received a good raise in water and temperatures were good.
Flies of choice were White-tailed Green Machines, Killer Whiskers, and a variety of Bombers.  One party bought Rat-Faced McDougalls, and had good trouting on the Renous.
Curtis Miramichi River Outfitting in Blackville said anglers were getting some salmon and grilse, but the fish were not plentiful.  They had heard of a 37 pound salmon.  Water conditions were good.
Flies of choice were White-tailed Green Machines, Same-Thing-Murrays, Bon Bons, and Yellow Butterflies on no. 6 hooks.
Jim Laws of Miramichi Hunting and Fishing in Newcastle, Miramichi reported a few fish around and some being caught, but numbers in both were not high.  Water conditions were good.
Flies of choice were White-tailed Green Machines, Black Ghosts, Shady Ladies and Butterflies on no. 6 hooks.
Syd Matchett of Trout Brook Fly Shop on the Northwest Miramichi said angling was good and bad depending who you talked to.  The Stoney Brook Crown Reserve party of four who came out Tuesday reported a salmon and five grilse.  Four fish were caught in the lower part of the river.  Holly Harris finally caught a grilse after a long drought, but Syd was not sure if he caught it or his wife who was guiding him.  Water conditions were good, but dropping quickly with the warmer weather.
Flies of choice were White-tailed Green Machines, Yellow Butterflies, Shady Ladies, Green-butt Bear Hairs and Same-Thing-Murrays on no. 6 hooks.
Debbie Norton of Upper Oxbow Outdoor Adventures on the Little Southwest Miramichi said there were some fish around, but in no great numbers, and you had to work hard for success.  Generally, there were more grilse than salmon.  Water conditions  were good.
Flies of choice were White-tailed Green Machines, Shady Ladies and Blue Charms.
With numbers of fish in the system gradually improving, it is time to get out and "on the water".
Don't forget to show your support for our sponsors, because without them, this column would not be possible.  

ANY FINANCIAL CONTRIBUTIONS TOWARD HELPING WITH THIS COLUMN ARE GREATLY APPRECIATED.
Click here to donate now. Or to donate by mail, send to:
Doug Underhill
438 McKinnon Road
Miramichi, NB, Canada, E1V 6G2
A SPECIAL THANKS to all who made contributions last season.
If you would like to sponsor this column, give us a call at (506) 352-7668 or email .
______________________________________________________________________________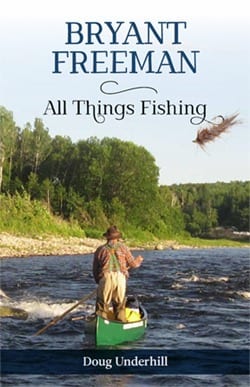 Bryant Freeman: ALL THINGS FISHING by Doug Underhill
NOW AVAILABLE in Stores
or from Doug Underhill
438 McKinnon Road
Miramichi, NB
E1V 6G2
or Bryant Freeman 1-506-386-6269
Cover price $19.95
Shipping to Canada $25.00 (Incl shipping & handling)
To US $30.00 (incl shipping & handling)
The Coalition for Better Salmon Management (CBSM) now has a website at salmonnb.com, which has been expanded and updated. It already has a membership over 1,000 and is a major voice for salmon conservation here in New Brunswick.
Thought for the Week: "Most of the world is covered by water. A fisherman's job is simple: pick out the best parts"….Charles Waterman
Email:
From ASF
Sponsoring a smolt tag is a great way to support the research work of ASF.  When you "Adopt A Smolt" you choose the river system it comes from. We will send you an adoption certificate and updates on our field work. At the end of the year – we'll send you a final report on your smolts story!
P.S. It's a full donation so you also receive the tax benefit.
Upcoming MSA Events You Don't Want to Miss
MSA's Annual Salmon Classic Weekend – Miramichi, NB Sunday July 9th – Wednesday July 12th, 2017
MSA's 22nd Annual Fredericton Conservation Dinner- Fredericton, NB Thursday September 21st, 2017
Become a member of the MSA to receive their newsletter by email!
Anyone wishing to report suspicious fishing activity anonymously is asked to contact the nearest Fisheries and Oceans Canada office or to call Crime Stoppers at 1-800-222-8477
Until next week
TIGHT LINES
DOUG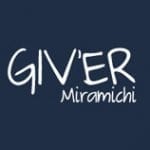 Giv'er Miramichi is about "What's up, what's new, what's happening". We are focused on building people up, supporting one another and celebrating our successes.