Miramichi Fishing Report for Thursday, August 31, 2017
MIRAMICHI – Water temperatures have improved this week, resulting in a few more fish being in the taking mode. However, we still have had no significant rain to improve the water levels. Having said that, I'm sure Houston would gladly share if they could. Our sympathies go out to them in this time of crisis.
W. W. Doak and Sons in Doaktown said the good news was lower water temperatures with cooler nights giving the river around 60 degrees Fahrenheit for the morning start. However, water levels remain very low with few reports of any amount of new fish coming into the system. One camp in the Doaktown area report three fish caught Tuesday, and camps further up-river have been doing reasonably well.
Flies of choice were Killer Whiskers and smaller dark wets such as Bear Hairs, White-tailed Green Machines, Undertakers and Same-Thing-Murrays on nos. 8 & 10 hooks.
Andrew Anthony of Ledges Inn in Doaktown and Mountain Channel in the Rapids area said cooler water temperatures were helping them as well. The end of last week produced a half dozen grilse at Ledges, while Mountain Channel down river in the Rapids area hooked and landed seven between Thursday and Saturday. The Channel reported six so far this week (end of Tuesday) including an 18-pound salmon. They also had a few bright fish in the mix. The water remains very low with rain definitely needed.
Flies of choice were Bombers and small dark patterns such as Black Bugs, Undertakers, and White-tailed Green Machines on nos. 10 & 12 hooks.
Herb Barry Sr. of Herb's Fly Shop on the Station Road in Blackville said the most fish he had heard reported were striped bass in pools where salmon should be. There were a few salmon and grilse around, but they were not moving due to very low water. "If they are moving, they must be taking the bus up river", said Barry. There was an odd one taking, but certainly no numbers to speak of. There were hardly any anglers on the river.
Flies of choice were Killer Whiskers.
Curtis Miramichi River Outfitting in Blackville said anglers were catching a few fish in the low-water pools, with a mix of salmon and grilse. Most were old fish that have been in the system a while. Water levels were very low, but temperatures were adequate.
Flies of choice were small Green-butt Bear Hairs, Shady Ladies and White-tailed Green Machines on nos. 8 & 10 hooks, along with a few Bombers.
Jim Laws of Miramichi Hunting and Fishing in Newcastle, Miramichi reported very low water conditions, although cooler temperatures were producing an odd fish that were holding in the low-water pools. The fall return of striped bass has not started in the Miramichi area yet, but there were reports of some coming back in Miramichi Bay. Usually, late September and October produces the best fall results. Stripers that were reported up-river are those that did not go out after spawning.
Flies of choice were Ba variety of Bombers and small dark wet flies.
NOTE: We wish Jim a very HAPPY BIRTHDAY as he turns 80 this week, and is still going strong! Keep'er up Big Fella!
Syd Matchett of Trout Brook Fly Shop on the Northwest Miramichi said for very low water conditions, fishing was not bad. One angler hooked three salmon on Saturday while another pool produced a salmon and a grilse. Cooler night-time temperatures were the saving grace for low water. Syd added that there must be some water around as angler Lissa Mallais took an unexpected bath this past week.
Flies of choice were White Bombers with yellow hackle, Green Bombers with Orange hacle and small dark patterns such as White-tailed Green Machines and Shady Ladies.
Debbie Norton of Upper Oxbow Outdoor Adventures on the Little Southwest the water levels were low, but typical August levels. With decent temperatures, they were catching a few fish and losing a few which was pretty good considering the conditions. Like most, she is looking forward to a good Fall run.
Flies of choice were White-tailed Green Machines and Will Taylor Specials.
So a good couple of days of steady rain would be welcomed to bring up water levels up and hopefully kick off the Fall run. Then most can get out and "on the water".
---
Don't forget to show your support for our sponsors, because without them, this column would not be possible.  

ANY FINANCIAL CONTRIBUTIONS TOWARD HELPING WITH THIS COLUMN ARE GREATLY APPRECIATED.
Click here to donate now. Or to donate by mail, send to:
Doug Underhill
438 McKinnon Road
Miramichi, NB, Canada, E1V 6G2
A SPECIAL THANKS to all who made contributions last season.
If you would like to sponsor this column, give us a call at (506) 352-7668 or email .
---
Thought for the Week:  "The solution to any problem — work, love, money, whatever — is to go fishing, and the worse the problem, the longer the trip should be." – John Gierach
---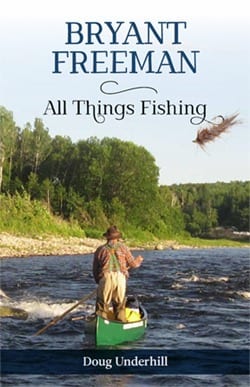 Bryant Freeman: ALL THINGS FISHING by Doug Underhill
NOW AVAILABLE in Stores
or from Doug Underhill
438 McKinnon Road
Miramichi, NB
E1V 6G2
or Bryant Freeman 1-506-386-6269
Cover price $19.95
Shipping to Canada $25.00 (Incl shipping & handling)
To US $30.00 (incl shipping & handling)
---
The Coalition for Better Salmon Management (CBSM) now has a website at salmonnb.com, which has been expanded and updated. It already has a membership over 1,000 and is a major voice for salmon conservation here in New Brunswick.
---
Email:
Atlantic Salmon Federation News
Friday, Aug. 18, 2017
ASF RIVERNOTES finds some interesting numbers in mid-August returns
~~~~~~~~~~~~~~~~~~~~~~~~~~~~~~~~~~~~~~~~~~~~~~~~
With the mid-August date passed, new numbers are available on salmon counts, some new notes from George River in Ungava, and ASF RIVERNOTES takes a look at Atlantic salmon and total solar eclipses. Plus many river re-openings for live release angling. Read on:
http://asf.ca/asf-rivernotes-aug-18-2017.html
ASF Saving Atlantic Salmon
~~~~~~~~~~~~~~~~~~~~~~~~~~~~~~~~~~~~~~~~~~~~~~~~
Don Hustins literally wrote the book, River of Dreams, on the history of the Atlantic salmon in Newfoundland. He shows how important the Atlantic Salmon Federation has become to the future wellbeing of Atlantic salmon in North American rivers.
http://asf.ca/asf-saving-salmon-not-privatizing-rivers.html
Bill Taylor Writes Letter on Grieg's Way Forward
~~~~~~~~~~~~~~~~~~~~~~~~~~~~~~~~~~~~~~~~~~~~~~~~
ASF President Bill Taylor gives a perspective on what the NL Supreme Court decision offers on the need to have a full environmental assessment of the giant Placentia Bay aquaculture project.
http://asf.ca/there-is-a-way-forward-for-grieg.html
Paul Smith Points Out the Need to Conserve More Salmon
~~~~~~~~~~~~~~~~~~~~~~~~~~~~~~~~~~~~~~~~~~~~~~~~
Often a wise voice on the rivers of Newfoundland and Labrador, he lends his perspective to the latest developments in the greatly reduced salmon runs.
http://asf.ca/salmon-numbers-are-down-notes-paul-smith.html
ASF Researchers in a Big Ocean
~~~~~~~~~~~~~~~~~~~~~~~~~~~~~~~~~~~~~~~~~~~~~~~~
ASF's Eric Brunsdon writes on the hard-core at-ocean fieldwork required to retrieve data from the ultra-important tracking research being led by ASF. In this case, the adventures are between Labrador and Newfoundland
http://asf.ca/research-in-the-field.html
Fish and Wildlife Enforcement Officers Lay Charges across NL
~~~~~~~~~~~~~~~~~~~~~~~~~~~~~~~~~~~~~~~~~~~~~~~~
The enforcement officers have been busy and are having an impact on those breaking the laws that reinforce conservation.
http://asf.ca/enforcement-officers-lay-charges-across-newfoundland.html
Best Practices for Live Release
~~~~~~~~~~~~~~~~~~~~~~~~~~~~~~~~~~~~~~~~~~~~~~~~
A new scientific study looks at the best practices for correct live release in Atlantic salmon as well as other species. An interesting read.
http://asf.ca/best-practices-for-catch-and-release-angling.html
~~~~~~~~~~~~~~~~~~~~~~~~~~~~~~~~~~~~~~~~~~~~~~~~
To keep track of breaking news on wild Atlantic salmon, use the Atlantic Salmon Federation's presence on Facebook. Log in, search for Atlantic Salmon Federation, and click "like".
Atlantic Salmon Federation News
Thursday, Aug. 24, 2017
ASF RIVERNOTES: An Update on Late August Atlantic Salmon Returns
~~~~~~~~~~~~~~~~~~~~~~~~~~~~~~~~~~~~~~~~~~~~~~~~
With September approaching, a look at the wild Atlantic salmon scene in the latter part of August.
http://asf.ca/asf-rivernotes-aug-24-2017.html
SCNL Wants More DFO Protection for Salmon
~~~~~~~~~~~~~~~~~~~~~~~~~~~~~~~~~~~~~~~~~~~~~~~~
Don Hutchens says there is a need for increased enforcement to stop poaching in Newfoundland.
http://asf.ca/scnl-wants-more-dfo-resources-to-protect-wild-salmon.html
Fragile Salmon Stocks No Deterrent to Salmon Poachers
~~~~~~~~~~~~~~~~~~~~~~~~~~~~~~~~~~~~~~~~~~~~~~~~
More cases in court for poachers in NL.
http://asf.ca/fragile-salmon-stocks-no-deterrent-for-poachers.html
Time for Action on Salmon Numbers
~~~~~~~~~~~~~~~~~~~~~~~~~~~~~~~~~~~~~~~~~~~~~~~~
The salmon situation is making its way into the political realm, as statements are issued by Members of Parliament.
http://asf.ca/time-for-action-on-atlantic-salmon.html
Blog Update – ASF Researchers Regroup to Plan Autumn Action
~~~~~~~~~~~~~~~~~~~~~~~~~~~~~~~~~~~~~~~~~~~~~~~~
Staff gathered from across Atlantic Canada and New England to map out the months ahead.
http://asf.ca/research-in-the-field.html
ASF Asks Anglers to share sighting reports of Striped Bass in salmon rivers
~~~~~~~~~~~~~~~~~~~~~~~~~~~~~~~~~~~~~~~~~~~~~~~~
There has been an alarming increase in the number of Striped Bass sightings far upstream from tidewater in Atlantic Canada, Quebec and even Labrador in 2017. ASF is now asking anglers to share their sightings in salmon rivers with our biologists by filling out a simple one-page survey. Anglers can provide valuable information in understanding the impact the Striped Bass may be having on juvenile salmon and other fish.
EN
https://www.surveymonkey.com/r/asfbass
FR
https://fr.surveymonkey.com/r/asfbassf
Half of BC's Salmon Runs Not Monitored
~~~~~~~~~~~~~~~~~~~~~~~~~~~~~~~~~~~~~~~~~~~~~~~~
Details are offered on the decline in assessment resources for the West Coast populations. The same has happened in Atlantic Canada.
http://asf.ca/half-of-bc-declining-salmon-not-monitored-by-dfo.html
Washington State Salmon Farm Disintegrates – 305,000 Salmon Escape
~~~~~~~~~~~~~~~~~~~~~~~~~~~~~~~~~~~~~~~~~~~~~~~~
A Cooke Aquaculture site in Washington had a massive containment failure and all anglers and even trawlers are being encouraged to catch Atlantic salmon in Washington State's San Juan Islands.
http://asf.ca/305000-wa-farmed-salmon-escape-due-to-eclipse-tides.html
Wild BC Salmon at Risk after Escapes
~~~~~~~~~~~~~~~~~~~~~~~~~~~~~~~~~~~~~~~~~~~~~~~~
The escape of so many farmed Atlantic salmon is causing fears of these fish spawning in BC rivers.
http://asf.ca/wild-bc-salmon-at-risk-after-farmed-fish-escape-in-wa.html
UK Study into Pink Salmon Invasion
~~~~~~~~~~~~~~~~~~~~~~~~~~~~~~~~~~~~~~~~~~~~~~~~
An official study is being launched in the large increase in Pink Salmon being found in rivers in Scotland and England.
http://asf.ca/study-into-uk-pink-salmon-invasion.html
UK Consultation to Tackle Decline in Salmon Runs
~~~~~~~~~~~~~~~~~~~~~~~~~~~~~~~~~~~~~~~~~~~~~~~~
At the same time as concerns are raised regarding Pink Salmon, an overall consultation process is underway on declines in native Atlantic salmon
http://asf.ca/uk-consultation-to-tackle-decline-in-salmon.html
~~~~~~~~~~~~~~~~~~~~~~~~~~~~~~~~~~~~~~~~~~~~~~~~
To keep track of breaking news on wild Atlantic salmon, use the Atlantic Salmon Federation's presence on Facebook. Log in, search for Atlantic Salmon Federation, and click "like".
---
Anyone wishing to report suspicious fishing activity anonymously is asked to contact the nearest Fisheries and Oceans Canada office or to call Crime Stoppers at 1-800-222-8477
Until next week
TIGHT LINES
DOUG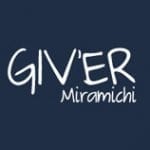 Giv'er Miramichi is about "What's up, what's new, what's happening". We are focused on building people up, supporting one another and celebrating our successes.