Miramichi Fishing Report for Thursday, October 19, 2017
CORRECTION: Last week I inadvertently gave out wrong information regarding the daily retention number of stripped bass. I had stated "two" which was wrong. As of September 1 until October 31 the daily retention is ONE FISH ONLY between 50-75 centimeters.
NOTE: For the past three weeks, there has been a disruption in this column's distribution, especially with Bell Aliant customers. Bell must have changed their operating protection protocol, because we did not change anything on our end. Resultantly, many have not received their weekly update. Simply tell those who have not received the column to go to my website www.dougunderhill.com, and re-subscribe. Hopefully that will resolve the problem.
MIRAMICHI – For the most part, another angling season is in the books. The only remaining rivers open until October 29 are the Bartibog, Tabusintac and Burnt Church Rivers which all are very low water at present.
The season has produced mixed results. For most, it was a disappointing season except for the final two to three weeks when salmon began returning. The main problem was continued hot weather with very little substantial rain-fall. There was literally not enough water in many instances for the fish to move up river.
Jim Laws of Miramichi Hunting and Fishing in Newcastle, Miramichi reported good numbers of striped basin the river, with some big ones. "One angler was in Tuesday. He told me he hooked a big one and it ran three times before breaking the line n the fourth run. He was using 30-pound test," said Laws. Laws added that most anglers were using bait, with a few using lures. There were also reports of some good sized stripers being hooked last week in the Quarryville/Gray Rapids area. With salmon finished for the season (other than the three rivers mentioned above) there is still time for a little "Cast 'n Blast" with stripers, so get out and "on the water".
---
Don't forget to show your support for our sponsors, because without them, this column would not be possible.  

ANY FINANCIAL CONTRIBUTIONS TOWARD HELPING WITH THIS COLUMN ARE GREATLY APPRECIATED.
A SPECIAL THANKS to all who have made contributions so far this season.
Click here to donate now. Or to donate by mail, send to:
Doug Underhill
438 McKinnon Road
Miramichi, NB, Canada, E1V 6G2
If you would like to sponsor or advertise in this column, give us a call at (506) 352-7668 or email .
---
Thought for the Week: "To paraphrase a deceased patriot, I regret that I have only one life to give to my fly-fishing." – Robert Traver
---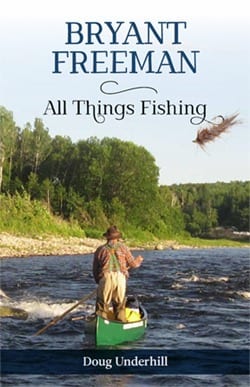 Bryant Freeman: ALL THINGS FISHING by Doug Underhill
NOW AVAILABLE in Stores
or from Doug Underhill
438 McKinnon Road
Miramichi, NB
E1V 6G2
or Bryant Freeman 1-506-386-6269
Cover price $19.95
Shipping to Canada $25.00 (Incl shipping & handling)
To US $30.00 (incl shipping & handling)
---
The Coalition for Better Salmon Management (CBSM) now has a website at salmonnb.com, which has been expanded and updated. It already has a membership over 1,000 and is a major voice for salmon conservation here in New Brunswick.
---
E-MAIL:
Doubtful I am alone as I ponder salmon angling 2017 thinking…
"that could have gone better in so many ways". the fine and persistent summer weather highlighted all truth in saying that there is such thing as too much of a good thing, sunny, warm, so little rain, had many of us feeling that even if we were to persist and press on with certain angling dates landing on the warmest of days outside of the mandatory closures, luring the relaxed summer residents out of their cool running pools, regardless, could be akin to committing unkind acts against the vulnerable, something like wrestling an old lady in 90 degree heat, she may come out swinging, but its quite possible it might not end well for her….As a result, my own angling days were few and the concern for the well being of the river as a whole, great and shared by many….my very real solace in an otherwise abysmal angling year came in these last magical few season ending days, a spell of rain, cooler temperatures moved the delayed travelers along and brought some readily to the fly. These fish were healthy and in fine fighting shape, we had the good fortune to engage a group of acrobatic performers bathed in warm, glorious October evening light….just a couple of days, right here at seasons end, I'm calling it "salvation for the angling soul"…..tail walkers, leader stretchers, played well to hand, and handily released brought great peace to my own troubled mind, closure… we wished them all, seen and unseen, Godspeed and many more healthy returns as the last cast came round, and the reels wound up in the half light end of the second to last day….As I waded ashore I was yet reminded that for all the difficulties endured in the 2017 season there will only remain, for me, the selective memory of these last few days on the river, my renewed hope for better angling days in the season of 2018.
| | |
| --- | --- |
| | |
Daniel
Daniel Porter Fine Arts
---
Cumulative counts to date of salmon as of October 15
* indicates fewer than 5 years are available to calculate the mean.
N/A indicates that no values exist for that year, date of operation may vary from year to year.
Cumulative counts to date of grilse as of October 15
* indicates fewer than 5 years are available to calculate the mean.
N/A indicates that no values exist for that year, date of operation may vary from year to year.
---
Anyone wishing to report suspicious fishing activity anonymously is asked to contact the nearest Fisheries and Oceans Canada office or to call Crime Stoppers at 1-800-222-8477
Until next week
TIGHT LINES
DOUG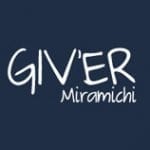 Giv'er Miramichi is about "What's up, what's new, what's happening". We are focused on building people up, supporting one another and celebrating our successes.