Accepting Applications for Executive Director
The Miramichi Chamber of Commerce is now accepting applications for the following  position:
Executive Director
Responsible to the Miramichi Chamber of Commerce Board of Directors
Permanent Full time
Working Relationships:

Chamber of Commerce President, Executive Committee, Chamber Board,  Chamber sub-committees and Task Groups, local, regional, provincial and federal elected officials and staff, partnerships and sponsors, Atlantic Chamber of Commerce, Canadian Chamber of Commerce and Chamber members
Qualifications:
Post-secondary degree an asset or equivalent experience; public policy or related field, work experience at a senior level an asset, work experience with a Board of Directors in a senior capacity an asset, demonstrate organizational, entrepreneurial, leadership and management ability, Demonstrate management experience, experience in staff management, excellent oral and written communication skills.
Position Summary:
The Executive Director holds the key leadership position with the organization to advocate on behalf of the Chamber of Commerce members under the authority of the Board of Directors., assumes responsibility for the day to day functions of the Chamber under the direction of the President and the Board of Directors.  The Executive Director assumes responsibility for the implementation of the organization's programs and services and is responsible for the management of all required fiscal, entrepreneurial and HR responsibilities with the approval of the President and Board of Directors and any other tasks that may be assigned.
Duties:
Support the Board of Directors, implement policy and planning, exercise financial administration, human resource management, program and service development, community relations, partnerships, and sponsorships, and other duties as assigned.
Skills:
Excellent communication and interpersonal skills
Strong presentation skills
Intermediate computer skills
Send resume to Mr. Wayne Bushey, President at  or mail to Wayne Bushey at 25 Charles Fish Crescent, Miramichi, NB E1V 3T6.
Deadline for applications:  January 15, 2018
Only applicants chose for interviews will be contacted.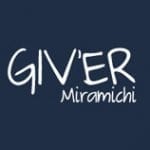 Giv'er Miramichi is about "What's up, what's new, what's happening". We are focused on building people up, supporting one another and celebrating our successes.