City of Miramichi Age Friendly Survey Launch
The City of Miramichi invites you to attend the official launch of its age-friendly community survey.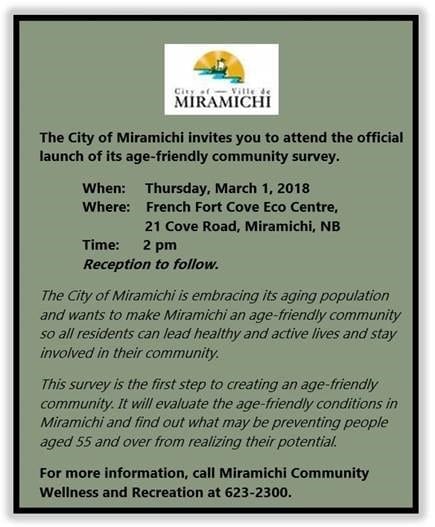 The City of Miramichi is embracing its aging population and wants to make Miramichi an age-friendly community so all residents can lead healthy and active lives and stay involved in their community.
This survey is the first step to creating an age-friendly community. It will evaluate the age-friendly conditions in Miramichi and find out what may be preventing people aged 55 and over from realizing their potential.
When: Thursday, March 1, 2018
Where: French Fort Cove Eco Centre,
21 Cove Road, Miramichi, NB
Time: 2 pm
Reception to follow.
For more information, call Miramichi Community Wellness and Recreation at 623-2300.