Discover the Trails at Miramichi Cross Country Ski Club
By Deana Gadd
There's something for everyone at the Miramichi Cross Country Ski Club. Located in a wooded setting in the Nelson area of the city, the club offers a variety of activities. Some of the choices are snowshoeing on wooded trails with your camera in hand, a family ski that can include taking your toddler in a special pull along sled or going for a vigorous skate ski.
The ski club operates seven days a week, usually with a lodgekeeper present. Evenings see volunteers on duty to welcome skiers, keep the fire going and handle trail fees and rentals. The club has 4 km of brightly lit trails that are open from Monday to Saturday from dusk until 9:30 pm. There is a special night time rate of $5 that includes a trail pass and rental equipment. The club has rental equipment for all ages for skis (free for ages 3 to 5) and youth and adult snowshoes. Skate skis are available at a higher rental rate and are only in larger sizes, you must have skied before to rent them.
The ski trails at the club range from a 0.3 km bunny trail to the 12 km silver trail. Some trails are wider and allow for both classic and skate skiing, while others are narrower and groomed only for classic skiing. The snowshoers have their own 6 km of trails which are laid out in 1km flagged loops.
The ski club has a youth skill development program which is already under way with an annual participation event on Feb. 4th (the Miramichi Ray Thibodeau Loppet) and social events planned during the year.
Cross country skiing and snowshoeing are easy ways to get fresh air and sunshine during the winter months. The ski club members welcome you to join us and find out for yourself!
The club's website is well-maintained and has information on ski instruction programs, rates, trail conditions, maps, online membership registration and more. Find them at www.skimiramichi.com  and on www.facebook.com/skimiramichi or call the ski lodge at 622- 6991.
This article was originally printed in in the Winter 2018 issue of Giv'er Miramichi magazine.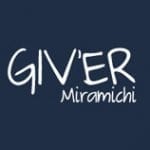 Giv'er Miramichi is about "What's up, what's new, what's happening". We are focused on building people up, supporting one another and celebrating our successes.