Painting Your House's Interior in 2018
By Kelty Druet
A fresh coat of paint is the most inexpensive way to "remodel" a room.  To get beautiful results, ensure the surface to be painted is clean, dry and as smooth as possible.  Prepare the room your painting by laying down drop cloths, removing receptacle cover plates, hardware, draperies, etc.  When it comes to painting, remember that cheap paint can be the most expensive paint.  Why you ask?  The ingredients in inexpensive paints skimp on materials, and they can fade faster.  Inexpensive paints have also been known to wash off the walls during cleanings. More expensive house paints are worth the money, and in fact, they will save you money in the end.  Buying cheap paints will increase the likelihood that you'll need to paint again in a couple years time.  Don't forget, use the right tools for the job!  A good quality paint brush will last you many projects and garnish great results.
Wondering what paint colors are on trend for 2018?  Let me just say that black is back and is here to stay.
Black has been taking over spaces in home decorating magazines this past year, and in all seasons.  This edgy hue is popping up in kitchens to bathrooms and bedrooms and it's showing no signs of slowing down.
Black Elegance from the Dulux Paint Palette's 2018 Trends Collection, makes a striking style statement. Whether you boldly cover an entire room or easily embrace it on a select few accents, this color is a statement-making black infused with an undertone of deep brown that creates a sophisticated setting.   Pair this color in harmony with natural wood, whites and neutrals for the perfect contrast.
Looking for even more of a show stopper?  Check out the Dulux Liquid Metal 2018 Color of the Year, Golden Goose.  It's a decadent effect finish with a contrasting accent of illuminating color-rich texture.
While neutrals are certainly safer, these color trends are inspiring people to take daring risks with their walls.  So go for it, give your space a bold facelift in 2018!
Kelty Druet has a love for restoring character buildings and home renovations. She is a furniture paint educator and co-owner of Crackle and Teal. A lifetime DIY'er, you'll find her in the store helping fellow creatives transform beautiful pieces.
This article was originally printed in in the Winter 2018 issue of Giv'er Miramichi magazine.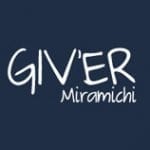 Giv'er Miramichi is about "What's up, what's new, what's happening". We are focused on building people up, supporting one another and celebrating our successes.