Bases Loaded: A Beaubears Story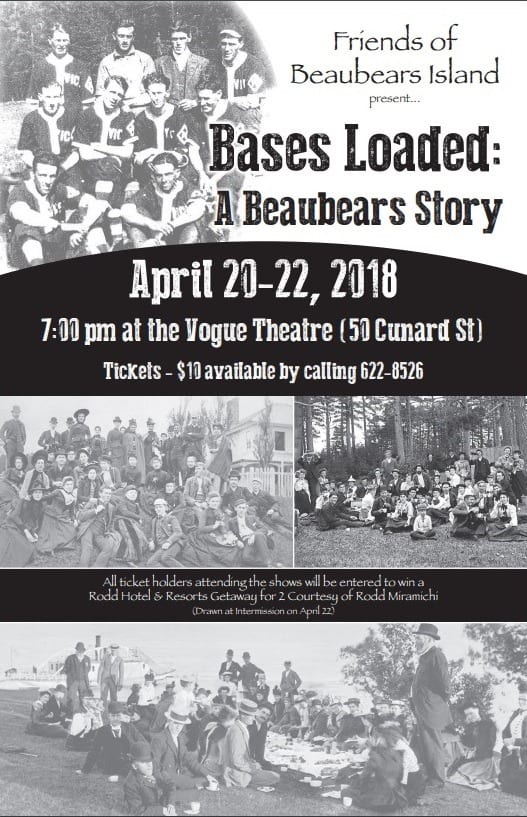 The so-called "Beaubears Island Players" are at it once again. The informal community theatre troupe, assembled by the Friends of Beaubears Island, has, since 2014, brought history to life on the stage with a series of informative and entertaining productions. At the same time, they have helped raise funds to extend the employment of area students interpreting the past on Beaubears Island for the benefit of thousands of guests, drawn from far and near.
This year, after having already taken several forays into the dramatic, the production will tend toward the lighthearted and humorous. Bases Loaded: a Beaubears Story is an original script, entwining three separate narratives from the turn of the twentieth century. The performance will hit the stage at the Vogue Theatre from April 20-22 at 7pm each night.
Florence McKane (played by Carol Tozer) presides over a Beaubears Island filled with activity, to say nothing of moose. Enterprising hotelier James Scott (played by Neil Wallace) has struck a deal with her to manage lodgings on the Island, an enterprise that actually took place in 1894. Mr. Scott is hoping to realize his dream of a full-fledged hotel on the Island, contrary the grim predictions of his wife Lucille (played by Dorinda Glover) and lovelorn daughter Vivian (played by Christina Tozer).
Attempting to aid in the restoration of the Island, and make a few dollars in the bargain, are members of the Nelson Vics baseball team (played by Sean Rule, Jacob Legere, Franky Corcoran & Shawn McCarthy), hired as labourers for the Scott enterprise. The team, who took their name from the HMS Victory of Napoleonic War fame, and actually played games on a specially made baseball diamond on the Island, look snatch victory from the jaws of defeat in their struggle to win the championship cup newly donated by future Senator, G. Percival Burchill.
Of course, the Scotts and the Vics are not alone in their money-making efforts on, and around, the island. With Northumberland County narrowly voting to pass a prohibition on intoxicating liquors, a secret trade has sprung up county-wide. Will the long arm of the law, represented by an enterprising officer (played by Billy Young), catch up with 3 ladies (played by Cindy Rule, Heather Cox & Lisa Savage) running an illegal distillery in the area, or can they iron out their issues with the authorities?
The show is sure to be a rib-tickling affair, with more than a few interesting facts peppered into the mix, and certainly an evening that you won't wish to miss. Even better, your attendance helps local students spend more time at work in our area, educating others about our past and two sites of national historic significance.
Tickets are available ($10) at Brookdale Flower Shop, Creative Grounds Cafe, or by calling 624-4485.
Posted by: Friends Of Beaubears Island Inc