Fundraiser for Young Hockey Player to Attend Training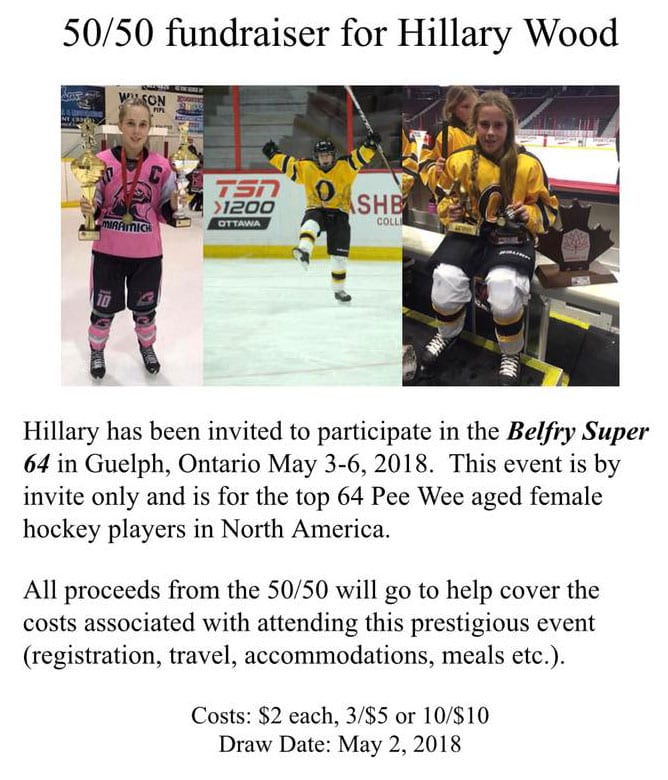 Hillary Wood has been offered an incredible opportunity to further develop her hockey skills. She has been invited to attend The Belfry Super 64, a premiere development camp, that invites only a select number of players from Canada and the United States to attend this prestigious event.
Hillary was chosen for the top 64 – 36 forwards, 24 defence and 4 goalies – Pee Wee aged (birth years 2005 and 2006) females in North America, to attend 4 days of hockey training in Guelph Ontario. These players were selected by a panel of respected hockey experts throughout North America.  The head instructor, Darryl Belfry, is acknowledged to be the best skills coach in Canada and is hired by NHLers such as Austen Matthews, Sidney Crosby, Jonathan Taveres and Patrick Kane to work on their individual skills.
The cost of registration, travel, accommodations, meals etc is not included in the invitation however, and must be covered by Hillary and her family. This opportunity will not be possible for her without fundraising.
Hillary's mother, Glenda O'Neill-Wood, feels its very important for her daughter to get this opportunity to receive the hockey training. "Since the invite we have heard nothing but great things about this opportunity and told over and over again that she has to go", says Glenda. "Since we just got through a very busy hockey season and she is already committed to two spring hockey teams (Miramichi Militia boys and AFTI girls), which comes with a hefty cost, Hillary knows this opportunity will not be possible without fundraising."
Buy a 50/50 Ticket
To fund the registration cost, travel, accommodation and meals, Hillary will be selling 50/50 tickets. The deadline to commit to the training is ‪April 12th‬, and the event is in 4 weeks, so she needs to raise the funds quickly.
50/50 tickets are available from Hillary and her parents Glenda and Shawn. Contact them at 506-622-7893 or through their Facebook page (https://www.facebook.com/glenda.oneillwood) E-transfers are accepted to to purchase tickets.  Draw date is May 2, 2018.
Your support is greatly appreciated in helping Hillary participate in this event.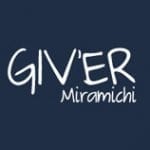 Giv'er Miramichi is about "What's up, what's new, what's happening". We are focused on building people up, supporting one another and celebrating our successes.