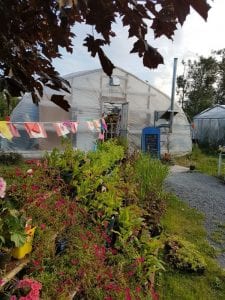 Well it's spring! A lot of us have been waiting patiently through sunshine, snow flurries and east wind to finally feel some relief of this phenomenon we call winter here in Miramichi.
Experience the feeling of spring when you enter the green house it smells like the earth, has warmth and humidity and it's free to visit. Welcome to Cole's Garden Patch!
Cole's is a little gem of a greenhouse with plants of all kinds, operated by a family of three -Kirk, dad and school bus driver, mom Tracy and their 10 year old son Cole. You might be familiar with the Shea family as they participate at the Water Street Farmers Market most Saturdays during gardening season.
In the beginning, this little farm was created through a love story. Two people fell in love and she had a horse. A piece of land was secured with a little house and a barn was built. Their love of agriculture led to them working side by side and increasing their flock to include horses, beef cattle, turkeys, chickens, and a jersey cow – pretty much anything that had fur or feathers.
Ten years ago their son Cole was added. He inherited his parent's love of farming and naturally became the CEO. Around the same time, Kirk was diagnosed with neurosarcoidosis, an inflammatory disease that has impacted his ability to walk. He relies on a cane, a battery operated scooter, and his most trusty mode of transportation, a 1971 Massey Ferguson tractor. When Kirk was no longer able to work as a school bus driver, the family decided to expand their love of farming and build a greenhouse.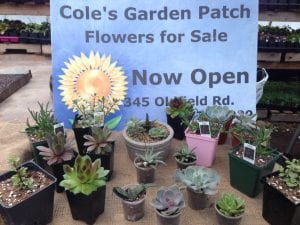 The initial greenhouse structure was made of wood and rafters, covered in greenhouse plastic and erected on a cold April morning with the help of friends. The greenhouse had a wood stove the first year so needless to say Kirk didn't get much sleep as it had to be tended to every three hours. Tracy found him nestled in the straw on the floor of the greenhouse fast asleep one night.
The young flowers had a great farmer who really wanted them to live that first year.
The Sheas started growing perennials, annuals and vegetable plants. They attended the Water Street Farmers Market that first year and supplied Miramichi Feeds with their vegetable and annual plants each spring. They soon took a leap of faith and built a larger greenhouse with indoor plumbing and electricity. The greenhouse is now in its fourth year of operation.
This year with a good dose of optimism there will be approximately 16,000 flowering annuals, vegetable plants, herbs, perennials, air plants and the largest selection of succulent plants on the river. A few shrubs, soil and organic amendments, garden themed accessories, OSC Seeds and gift certificates just in time for Mother's Day.. Tracy is in charge of the ordering. She researches carefully new varieties of plants finding out their faults and advantages.
Spring Pot Party – May 18th, 6pm-8pm
Come to the greenhouse with empty pots in hand to be filled with beautiful rich soil and browse the lovely blooms. Chat with other gardeners, sip punch, and learn from the expert advice of visiting plant maven, Jennifer Quinn. Private Pot Parties can also be arranged for groups.
Cole's Garden Patch opened on May 14th at 345 Oldfield Road. At the greenhouse they accept debit, credit card and cash for your convenience. They welcome questions and will provide helpful pointers on all things growing. You may contact them by phoning 506- 773- 4929, find them on Facebook or send an email to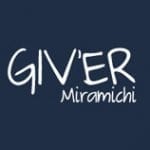 Giv'er Miramichi is about "What's up, what's new, what's happening". We are focused on building people up, supporting one another and celebrating our successes.