ALS Walk Strong – June 16th
In June, the ALS Society of New Brunswick and Nova Scotia will celebrate ALS Awareness Month by hosting their annual ALS Walk Strong fundraiser.
The Miramichi ALS Walk Strong event will be held on Saturday, June 16, 2018 at French Fort Cove with registration beginning at 10 am. The ALS Walk Strong brings together almost 1000 walkers, donors, clients and volunteers in both provinces to raise money and awareness.
ALS (Amyotrophic Lateral Sclerosis), also known as Lou Gehrig's disease, is a fatal disease that attacks and kills the motor neurons in the body, taking away a person's ability to move, to speak, and ultimately, to breathe. The ALS Society of NB and NS is not government funded and provides direct support to 100-150 people living with ALS each year, helping them to navigate through a confusing and difficult disease with dignity and purpose.
This support is most notably supplied by providing much needed medical equipment, which on average would cost $70,000 per client.
The ALS Walk Strong is an amazing fundraiser with 60% of proceeds going back into the community to support individuals with ALS and their families living in New Brunswick and Nova Scotia. The other 40% of the proceeds go to support ongoing ALS research which is happening all across Canada.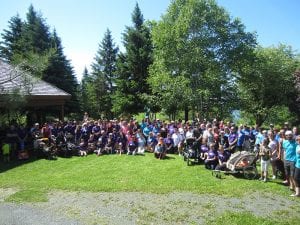 Currently in the Maritimes, there are two teams working to help fight ALS. Dr Victor Rafuse and his team in Halifax, NS are working at the Brain Repair Centre on muscle activation in an ALS mouse model with light therapy. Dr. Pier Morin and his team at the University of Moncton in NB are working on a definitive test to diagnose ALS earlier and accurately. The goal is to make ALS treatable, not terminal, by 2024.
The Miramichi ALS Walk Strong event begins with registration at 10 am. Throughout the event there will be live entertainment, jumping castles, games, balloon animals and "Face Painting by Amy" FREE for the children. A BBQ by Green's Catering will be FREE to anyone (family) with a pledge sheet of $25.00 or more! This family event focuses on making the day a fun-filled and memorable one for those affected by ALS, their families, friends, caregivers, and community.
We have set Miramichi's goal this year at $15,000.00! Together Miramichiers can do it! We thank you in advance for your kind support.
For more information visit "ALS Walkstrong – Miramichi" on Facebook, E-mail or call 506-625-1554
Let's all grab our sneakers and get ready to Walk Strong for those who are no longer able to do so! We will meet you at French Fort Cove Saturday, June 16th from 10 am to 1 pm.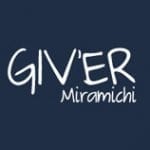 Giv'er Miramichi is about "What's up, what's new, what's happening". We are focused on building people up, supporting one another and celebrating our successes.