95th Annual Miramichi Agricultural Exhibition – July 17th to 21st, 2018
95th Annual Miramichi Agricultural Exhibition – July 17th to 21st, 2018
From old favourites to new attractions, you will find something for the whole family at the 95th Annual Miramichi Agricultural Exhibition!
Admissions to the exhibition grounds every day is free!
Opening day is Tuesday, July 17th at 4pm, Wednesday, July 18th, Thursday, July 19th and Friday, July 20th opening at 2pm and Closing day, Saturday, July 21st opening at 12pm noon.
An afternoon will fly by as you wander through the market place. Both the kids and the kids at heart will love the thrills of the amusements and indulging in an old fashioned candy apple afterwards.
Animal lovers will rejoice at the petting zoo and be on the edge of their seat during the annual 4H competition and light horse / pony show.
Kids Day will be held on Thursday, July 19th from 2pm to 6pm. 
Be sure to visit the Miramichi Exhibition's Website at: https://maeaca.wordpress.com/ and "View" and "Like" on Facebook at: https://www.facebook.com/MiramichiExhibition/
** NOTE **
The 2018 Exhibition Market dates are as followed: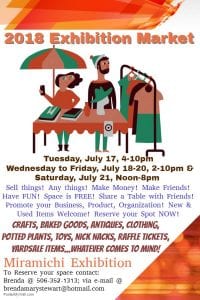 Tuesday, July 17th – 4pm to 10pm
Wednesday, July 18th to Friday, July 20th – 2pm to 10pm 
Saturday, July 21st – 12pm noon to 8pm
Sell things! Any things! Make money! Make friends! Have fun! Space is FREE! Share a table with friends! Promote your business, product or organization! New and used are welcome! Reserve your spot NOW!
Crafts, Baked Goods, Antiques, Clothing, Potted Plants, Toys, Nick Nacks, Raffle Tickets, Yard Sale Items, Whatever comes to mind!!
To reserve your space contact Brenda Mary Stewart by phone at 506-352-1313 or email .
Advance Bracelet Coupons will be on sale as of Sunday, July 1st and can be used any day of the Miramichi Exhibition for just $26.00!
See poster below for locations!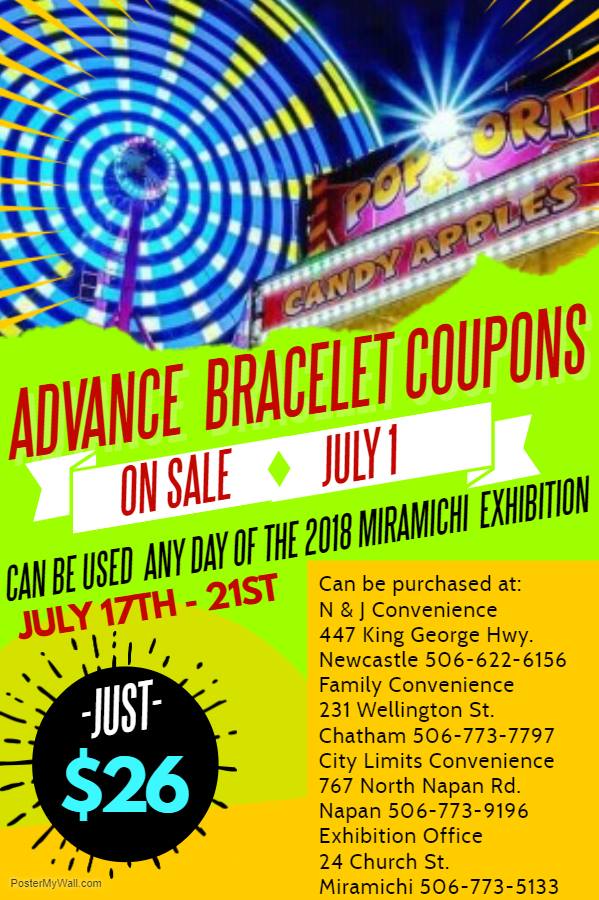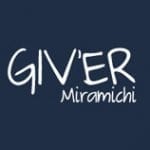 Giv'er Miramichi is about "What's up, what's new, what's happening". We are focused on building people up, supporting one another and celebrating our successes.