Miramichi June Salmon Fishing
I'm back in Maine after a couple of weeks of June salmon fishing on the Miramichi.  I'm going to ride out the heat wave here and then head back up, hopefully at the end of the week.  The short of the report is that this June was encouraging.  With two or three of us fishing most days we put 8 beautiful chrome fish in the net and contacted quite a few others.  That is certainly no record, but June is seldom a high production time, and these fish are by far the finest of the season.  We had some kind of action during almost all the morning and afternoon sessions, and we heard some good reports from the other camps too.  The DFO officials haven't yet posted the trap numbers from June 15, so there is no official yardstick to go by.  Anecdotally, though, the start is promising.  (click on the pictures for a larger view)

In addition to catching more salmon I would report that the normal places are holding plenty of parr. The other night at around 7:00 we ran back up from Doctor's Island to Campbell's Pool.  There were parr flipping along the bar edges and brook outflows all along the way upriver, and they were feeding heavily in every little seam of current throughout the rocks in Campbell's Pool.  It was really great to see.
We really had wonderful fishing conditions up until this heat wave. In fact June was quite cool for the most part.  I spent a night at Keith Wilson's Wildcat Camp high up on the Cains, doing research for my new book "On the Cains", and in the morning it was 27F.    There were fairly regular frosts right to the end of June.  Several moderate and well-spaced rains lifted the river, but not to more than 1.1 or so meters, and it never dropped to less than about .75 meters on the Blackville gauge.  This kept the pools well defined and with a good flow.  The fish were either running or taking a short rest, as it is too early in the Miramichi season for salmon to take up longer term residence.  But the water was low enough to encourage them to stop regularly in some of the good spots.  People sometimes think a June salmon will strike hard at any fly that gets near it.  That is certainly not the case by my experience.  We had a fair number of fish on this trip that rolled several times at different flies before either they could no longer be interested or had simply moved on.As a negative there are also plenty of striped bass, though I would comment that they are concentrated in certain bassy locations. The deeper water at the downstream end of Doctor's Island has a whole school in residence.  I understand that there are plenty near Black Brook too.  In the course of salmon fishing in the productive salmon water at Campbell's and Doctor's Island, though, we never caught one for which I was very grateful.   I have nothing against striped bass – in fact I love stripers – but we don't need schools of them 20 miles up into the Miramichi salmon habitat eating parr, or wildly inflated populations of over-protected predators lying in wait for every smolt coming down the river in May.
My big fish story – The first fish of the season for us was landed on 6/15, and it was an estimated 28-pound beauty that we got nice pictures of. This fish also taught us a little about salmon behavior.  We were dropping down through the lower part of Campbell's Pool on the Keenan side at a place called "Papa's Rock".  At a drop just up from some big rocks that were boiling away in the water just off our stern, I stripped out about 15 feet of fly line and made a short cast with a #2 Silver Rat – one of my early season favorites under the theory that it resembles the shiny saltwater bait fish that these ultra-fresh salmon had recently been eating at sea.  I really do enjoy fishing with these large flies and 12 pound test tippet.
Jason Curtis was peering over the back of the boat and said Brad, your fly just passed about 6 feet behind a big salmon. At that point I also saw the fish holding in about 3 ½ feet of water over some gravel between two small boulders.  I stripped in what I guessed was about the right amount of line and cast again.   The big salmon swam up off the bottom and followed the fly for about 10 feet then turned and swam back to the bottom, taking up a position about 6 feet away from where we had originally seen it.  You were about two feet short, said Jason.  As I pulled off the needed fly line and took a couple of deep breaths, the salmon slowly swam over to return to the exact position that it had originally occupied when we first saw it.
On my next cast the fly passed close to the fish's nose.   Again the salmon rose for the fly and I saw it open its mouth.  The water had enough surface disturbance that I did not see the fly actually disappear into its mouth, nor did I feel anything on the line, but I judged that she had taken it.  Not sure what else to do I gave a quick twitch of the rod and was solidly on to the fish.
Current conditions – Right now the Miramichi is heating up and 30C days are forecast until Thursday. Mitigating those temperatures is a pretty good raise of water that took place yesterday.  Nights are not forecast to be cool, but they are also not supposed to be nearly as warm as in some past heat waves.  Hopefully the combination of a decent height of water, fat brooks, maybe some thundershowers, and reasonable night temps will keep things from being as bad as they could be.  When things do return to normal we will hopefully see a nice influx of grilse and summer salmon.
While I'm up in camp I'm trying to make daily updates to my Salmon Report which is at this LINK that you can find on my bradburnsfishing website under Salmon Report.
These seasons pass quickly, and as trite as it sounds, they truly don't come again.  There is still time to call one of the Miramichi outfitters and book your trip for 2018.
The post Miramichi June Salmon Fishing appeared first on Brad Burns Fishing.
Source: Brad Burns Fishing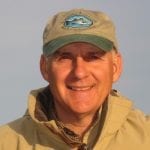 Brad Burns has avidly pursued striped bass, brook trout, Atlantic salmon and a host of other game fish for over 50 years. He is the author of the L.L. Bean Fly Fishing for Striped Bass Handbook, and with John Cole co-authored Fly Fishing for Saltwater's Finest in addition to this latest book Closing the Season. Brad has also written for many of the best known fly-fishing publications.