Laney & Alecia | Beaching and Bogging
As summer students at Discover Miramichi, we love exploring our region and the many exciting things it has to offer. We couldn't wait to experience the outdoor adventures at  Kouchibouguac National Park (about a thirty minute drive from the city). It was the perfect destination for both adventure travellers and those looking to relax. The park was much larger than we had envisioned with ten hiking trails to choose from and over 60 km of biking trails. It really is a great way to see and experience the beautiful outdoors.  We chose to take the Bog trail, which had a boardwalk wound through the expansive bog giving it a desert like feel. Along the trail is a spiral staircase lookout tower which overlooks the Bog, a wetland that accumulates moss. The view from the top was a sight to see.
The sun was shining, which made for a perfect day at Kelly's Beach,  so that is exactly what we did after we finished the Bog trail! To reach the beach, you must cross over a 1.2 km boardwalk. Not only is the boardwalk breathtaking, it is also a way to understand the evolution of the barrier island dunes. If you take some time to read the interpretive signs, you will be amazed at how much wildlife is present in this habitat. Kouchibouguac is also one of the very few places that has the small shorebird known as the piping plover.
It felt so nice to feel the soft sand under our feet. A lifeguard is always present to ensure you have a safe and enjoyable visit. We of course snapped a pic of us in the famous big red chairs that you can find across Canadian National Parks. To learn more on these chairs check out the hashtag on social medias, #ShareTheChair.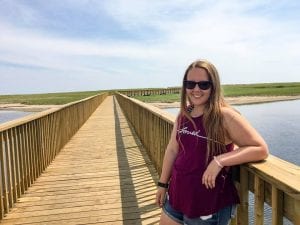 We were also excited to learn that Kouchibouguac Park is a dark sky preserve, making it perfect for star gazing and they even have "astronomical" events like 10k under 10 million stars.  
We couldn't help but take note of the large amount of bikes around the park. Kouchibouguac rents them and they are a popular option for those looking to explore this huge park. Every trail we seen had bicycles parked along the side if it was not a biking trail. What is neat too is that in the wintertime they have fat-bike rentals which are made for easier travel in snow because of their wide tires. Also in the winter, bird watching is always a big hit!
For those looking to make the most out of their visit, o'TENT'iks are a great way to enjoy the outdoors, by combining a tent and a cabin (all the fun of camping but with the comfort of a bed and without the stress of putting up a tent!). These are great for families as it can hold up to six people, and everything is set up and ready to go. Another great feature is that there are outdoor fire pits, perfect for roasting marshmallows. 
There is so much to do at Kouchibouguac and you can find many of the events scheduled all summer in their interpretive guide. Inside the guide, the whole family can discover numerous  ways to experience the park. Some of the activities you can find happening at the park include: geocaching 101, art in the park, sand sculpture workshops and much more! From lazing on the beach to cycling through the forest, Kouchibouguac is definitely a spot that you won't want to miss. 
Source: Discover Miramichi