Miramichi Hosts First Annual Theatre Festival – MRC Festival
The first annual MRC Theatre Festival held its opening ceremony Monday evening, at the Vogue Theatre in Chatham.
The ceremony consisted of art displays, musical performances, and speakers.
Co-Founded by Naomi McGowan and Samuel Crowell, the MRC festival is that of art, collaboration and theatre, in memory of the late Lloyd Cameron, a drama director who greatly impacted his community.
"MRC stands for MIramichi River Community, but it also represents Mr.C." said Crowell.
"It's such a dream come true that we get to celebrate Lloyd's life in this way, with lots of lovely and beautiful people." said McGowan.
Heather Crowell, mother of Samuel Crowell and one of the speakers of the night, voiced how proud and inspired she was of the project.
"When I look out (at the audience), I see people of all generations who knew and loved Lloyd. I am Jewish. In Judaism, we believe people only die when they are no longer remembered. We will forever see him walk into this theatre. He will be remembered on this river, forever."
The festival will run until the end of the week, with art shows, performances and free workshops taking place at a variety of locations. The full schedule can be found on the Buttercup Productions Facebook page online, or at the Information Desk located inside the Vogue.
By Jules Keenan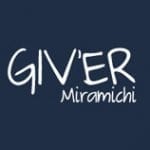 Giv'er Miramichi is about "What's up, what's new, what's happening". We are focused on building people up, supporting one another and celebrating our successes.