Twelve Things To Do On A Rainy Day
by Discover Miramichi
You've spent your summer days gallivanting along the beach or floating down the river in a tube beneath clear blue skies; but, then it finally happens, the dark grey clouds roll in followed by an epic down-pour. While the Miramichi region is renowned for being Atlantic Canada's Great Outdoors, every now and again you want to have a great day… indoors which is why Discover Miramichi has come up with twelve rainy day activities for you!
Farmers Market
Is it a Friday or Saturday? If so, stop by the Newcastle or Water Street Farmers Market to check out some of the creations from local vendors. While shopping, grab a bite to eat since the market offers eat in or take out meals. You can find handmade jewelry, cold pressed soaps, organic produce, pottery and much more!
Little Big Bear Safari
Rain or shine, Little Big Bear Safari is an amazing opportunity to see black bears up close in their natural habitat. You can watch Richard "the bear whisperer" interact with them from the safety of your observation tower. Beware, your heart just might be melted once you see the mama bears showing off their cubs
Creative Grounds Cafe
Grab a warm coffee with a friend in one of the coziest places in town. There's a wide variety of drinks to choose from and highly trained baristas. If you have some time, sit down a play a few board games or read a book while sipping on your beverage.
1809 Restaurant
Head to the 1809 restaurant for a delicious meal at any time of the day. The menu will leave you with tough decisions to be made since there are so many mouth-watering options. To put a positive spin on a rainy day, there is a breathtaking view of the Miramichi river. Bon appetit!
Yoga Block
Looking to get some exercise but the rain is keeping you indoors? Join a yoga class and get your sweat on! Leave the class feeling relaxed, refreshed and well stretched.
Atlantic Salmon Museum
If you want to learn more about the history of the Miramichi River, go visit the Atlantic Salmon Museum in Doaktown. The museum houses artifacts, paintings, sculptures, rods and everything involved with the sport of fly fishing. They also have an aquarium to showcase their marine life. Don't miss the Hall of Fame dedicated to those who were passionately interested in Atlantic salmon, like baseball legend Ted Williams.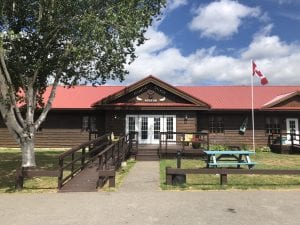 Shopping
Check out the shops in our historic downtowns. In Downtown Newcastle you will love the characteristic shops on Ritchie Wharf or make your way on a stroll around the square where you can have your tarot read, get a facial or pick up a new pair of shoes. On Water St. in Chatham, you'll find records, antiques and more. Shop til you drop, or at least until the rain stops.
Central NB Woodmen's Museum
Ever wonder how Boiestown got its name? Head to the museum to find out! Seasonally, you'll find a ghostly haunted maze, Christmas craft fairs, the Lumberjack Festival, and encounters with Big Jim the lumberjack.
Lord Beaverbrook House
Visit the 1877 Victorian style house and learn the story of a young boy, William Maxwell Aitken. Learn about his job description during World War II and his role in the battle of Britain. Don't forget to check out the library where the librarian was well ahead of her times…
Napan Baykery
Try out all of the German baked goods this bakery has to offer, right on Water street. It's cozy atmosphere and tasty treats will make for a perfect rainy afternoon.
Metepenagiag Heritage Park
Metepenagiag is New Brunswick's oldest continuously inhabited settlement, dating back over thirty centuries. Spend an afternoon at the heritage park, wandering about their beautiful facility learning about Mi'kmaq history and culture.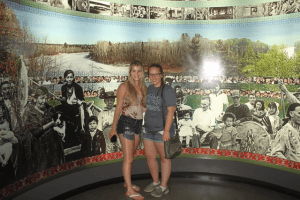 Catch a Show at The Vogue
This movie theatre has been pain-stakingly restored to host some of Miramichi's best entertainment from comedy shows to plays and live music, The Vogue makes for a perfect evening outing. Find their schedule here. 
Source: Discover Miramichi