Building a Corn Maze Business: A Dream Come True for the Fletcher Family
Building a Corn Maze Business: A Dream Come True for the Fletcher Family
by John Fletcher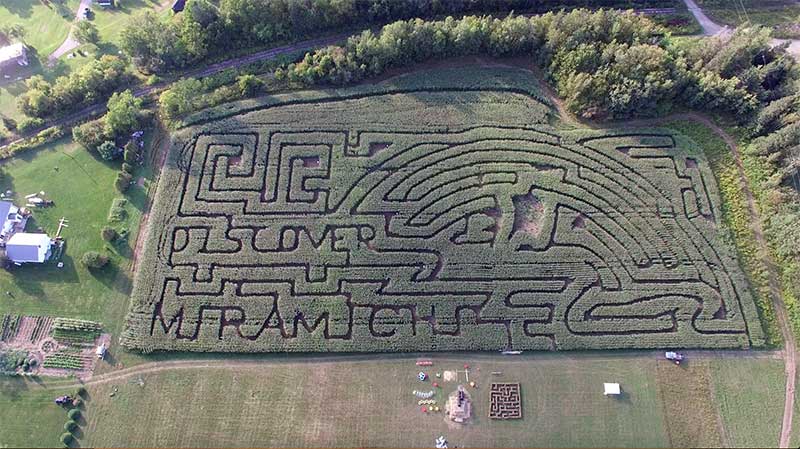 The idea to build a Corn Maze in Nelson (Miramichi) was planted in my head close to a decade ago. I had seen a maze online and was fascinated by the idea. However, the seed laid dormant as my wife and me – like many other Miramichi'ers- moved away from home in pursuit of employment. We had moved a lot over the years, and we finally settled – we thought- in Fort McMurray, Alberta in 2014.
On May 4th, 2016 our lives changed forever. Natalie and I, and our two children, Kellan and Kylie, were part of the city-wide evacuation in Fort McMurray due to the dangerous forest fires. As hectic as it was, it was the beginning of a new journey for the Fletcher family. While we were in Miramichi waiting for the green light to go back to Fort McMurray we had some time to revaluate our living situation. Natalie and I had been away from the river since we graduated high school in 2003 and had always longed for the day we could "come home" for good. We tied up some loose ends out west and put a plan in action to relocate to the Mighty Miramichi. The Fletchers' were finally coming home.
Once our feet were rooted back in Miramichi, I started seriously thinking about creating a Corn Maze business. The seed that laid dormant for all those years began to come to life. I  embarked on a mission to know everything there was to know about operating a corn maze attraction. I read books, listened to podcasts, watched hours upon hours of videos on Youtube and consulted with some of the first corn maze business owners in North America. My thirst for knowledge was unquenchable.
Entrepreneurialism, agriculture, and ecotourism run in my blood. My grandfather Benedict (Benny) Fletcher use to pedal fresh vegetables door-to-door in Nelson (Miramichi). My father and grandfather operated a Christmas Tree U-Pick in Nelson when I was in elementary, and my father and mother have been running Fletcher's Sleigh Rides for over two decades. The Corn Maze, in a way, was the proverbial "handing of the torch" from one generation to the next.
When choosing a theme and design for our maze for our inaugural year, we wanted to do something to give back to the region that gave us so much growing up. We chose the Miramichi City Logo and "Discover Miramichi" as our design; however, we didn't stop there. Our in-maze scavenger hunt, which has 18 checkpoints, features write-ups and skill testing questions about Miramichi festivals, events, tourist attractions and historic sites. We wanted to showcase the great things there is to do and be part of here on the Miramichi.
Our kids maze takes approximately 20 minutes to complete. We also have a fun park that has a hay bale pyramid with two giant tunnel slides, tetherball stations, a corn box (think sandbox but with corn), tireland, a small toddler hay bale maze and we offer wagon rides that take you around the property and through part of the cornfield.
To say that our family is excited about this new venture would be a gross understatement. Being able to settle in Miramichi, continuing to grow our family (adding Khloe in May 2018), and opening a business that offers an experiential and educational experience for all ages is indeed a dream come true.
Navigate your way through our five acre corn maze trying to complete the Miramichi themed scavenger hunt. Then head over to the  farm park, climb the hay bale pyramid, roam through the hay bale maze, play in the corn box or go for a wagon ride.
REGULAR MAZE
Dates: September 1st-October 27
Times: Saturday & Sunday 10am- 5pm (last ticket sold by 4pm)
Prices: Adults $10  • Youth under 18- $8  • Under 3 FREE!
Wagon Rides $2 per person/$5 per family
Maize-o-Vision Glasses $1
Groups by reservation, Monday to Friday. Groups of 20+ save $20 and instructors are free!
NIGHT MAZE 
Dates: September 14, 15, 21, 22, 28 29
October 5, 6, 12, 13
Time: 7pm-9pm (last ticket sold at 8pm)
Prices: Same as regular maze above
​* Customers under 10 years of age must be accompanied by a parent/guardian*  NOTE: Bring Your Own Flashlight!
HAUNTED MAZE
Dates: October 19, 20, 26, 27, 28
Time:  7pm-9pm
*(If you are in line by 9pm you can go through the maze)*
Price: $15
​* Customers under 10 years of age must be accompanied by a parent/guardian*
For more information call 506-627-1929 or 506-210-3467, visit the website at www.fletchersfarm5.com, email  , or find Fletcher's Farm on Facebook. Located at 99 Rasche St (Gerald King Softball Field Parking) in Nelson.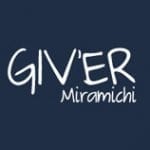 Giv'er Miramichi is about "What's up, what's new, what's happening". We are focused on building people up, supporting one another and celebrating our successes.