Rotary Club of Newcastle 7th Annual Purse Auction Fundraiser
Rotary Club of Newcastle 7th Purse Auction Fundraiser
The Rotary Club of Newcastle announced today they have committed to raising funds for the purchase of a Gamma Lymphatic Probe, in support of the Miramichi Regional Hospital Foundation. This year's annual Rotary Purse Auction will have all net funds directed to this purpose.
The Newcastle Rotary Club has a history of assisting the local medical community with needed equipment, so this is not a new path for them. "Many local residents will remember the two Rotary clubs raising a million dollars in the mid-1990's ,in order to purchase the first ever CT Scan for the area, said Auction Co-Chair Karen Howe, but we were also involved in funding the MRI Docking Unit, patient treatment chairs for the Oncology department, and other pieces of hospital equipment over the years." An extensive list of funded projects is available at www.RotaryClubofNewcastle.org.
A gamma probe is a handheld device containing a scintillation counter, which detects ionizing radiation. It is used following breast cancer surgery to locate and check lymph nodes close to where the lump was removed for any signs of spreading. An injection of short-acting radiation is used to locate affected lymph nodes by the higher absorption of radioactivity compared to normal tissue. The gamma probe can also be used for colon cancer and melanoma, as well as to locate small and non-palpable breast lesions. Use of the gamma probe is less invasive than other techniques. Stacey Sutherland, Co-Chair of the auction hopes "having the probe available during breast cancer surgery will help patient outcomes."
The 7th Annual Purse Auction happens November 2 at the MAEA from 6-12 PM. Tables of eight are available, cost is $25 per person. Tickets can be purchased at Scotiabank (Chatham or Newcastle), or Brookdales and Town Hill Jewelry in Newcastle, as well as by contacting Newcastle Rotary Club members. A multitude of purses will be available through silent auction, as well as a live auction of celebrity purses. The fashion show component will provided by Denim Warehouse and Town Square Boutique. There will be a dessert competition, as well as other fun activities. Emcees for the evening will be popular hosts Judy Losier and Gerry Green.
The Miramichi Regional Hospital Foundation enhances local quality health care services by raising funds for the purchase of equipment; erection, extension, or alteration of buildings; provision of health care for patients; education and training of professional, non-professional and technical personnel; and research. All funds raised remain local, helping patient and their families when they need it the most.
Rotary is a worldwide organization of business and professional leaders that provides humanitarian service, encourages high ethical standards in all vocations, and helps build goodwill and peace in the world.
Approximately 1.2 million Rotarians belong to more than 32,000 service clubs in more than 200 countries and geographical areas. Rotary International has been at the forefront of Polio Eradication worldwide since 1985, with the task 99% complete (www.EndPolioNow.org ) . The Rotary Club of Newcastle, located in Miramichi, was chartered in 1943. The club has raised funds and been involved in community service for decades, most recently with the Pond Hockey Tournament and now RibFest on the Miramichi.
For more information, see www.RotaryClubofNewcastle.org and www.Rotary.org.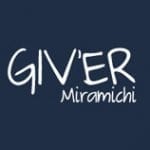 Giv'er Miramichi is about "What's up, what's new, what's happening". We are focused on building people up, supporting one another and celebrating our successes.