Camaro Sue has Met his Match!
Camaro Sue has Met his Match!
Camaro Sue was out and about town this summer and found himself a girlfriend!
As you may have seen, he loves to go up and down Water Street, hang around the Tim Horton's, and say hello to all the people passing by. His person Jean Joudry says, "by the smiles on their faces, he sure seems to brighten their day."
Jean and Sue were down in front of the Tim Horton's on Water Street, when Susan Sweezey saw Camaro Sue, and brought her dog Molly over. They seemed to hit it off, and Susan put Molly in with Sue to see what would happen.
"Lo and behold, Molly stayed put in the car, and even went for a drive with him, exclaimed Jean. "She is the first dog to ever stay in the car, and for sure the first one to go for a drive with Sue in the Camaro!"
Although Sue is nearly totally blind now from his diabetes, he still loves to get a drive in his car. Now that winter is here he'll be putting the car away, but we look forward to hearing about more of his adventures next year!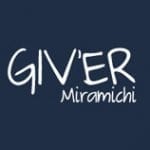 Giv'er Miramichi is about "What's up, what's new, what's happening". We are focused on building people up, supporting one another and celebrating our successes.