Scotiabank donates to Newcastle Rotary 2018 Purse Auction
Scotiabank Donates to Newcastle Rotary 2018 Purse Auction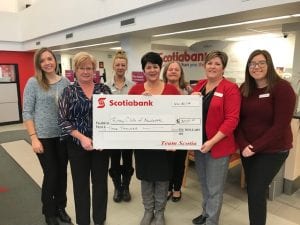 The Newcastle Rotary would like to thank the staff at the Scotiabank Chatham, led by Valerie Comeau and the staff
at the Scotiabank Henry Street led by Melissa McGloin for their amazing donation to this years Rotary Bags and Bubbles Purse Auction!!
Staff of the Scotiabank on Water Street in Chatham are shown in the photo presenting $3000 to the Rotary Club of Newcastle's Purse Auction co-chair, Karen Howe.
Staff volunteered their time to assist the club with fundraising efforts for the event and were able to donate under Scotiabank's Team Community Program.
From left to right – Lindsay Waye, Tracy Walsh, Stephanie Godwin, Rotarian Karen Howe, Mary McEathron, Rotarian/Manager Valerie Comeau and Robyn Augustine