Canadian Purple Shield Free Planning Workshop
On Tuesday, May 14th, 2019, beginning at 7 pm, come out to the Upper Miramichi Lions Club, located at 6438 Route 8 Highway in Boiestown, New Brunswick for the Canadian Purple Shield Free Planning Workshop.
The guest speaker of the evening is Jody MacBeath.
There is only limited seating available.
If interested in attending, please RSVP to Marilyn Munn by telephone at 1-506-369-9119 or by email at marilynmunn@xplornet.ca.
Do you have all your ducks in a row?
You've written your will?
What else is left?
This FREE, educational workshop answers many questions about estate preparation and planning ahead so your loved ones are spared making difficult decisions during an emotional stressful time!
Please join us!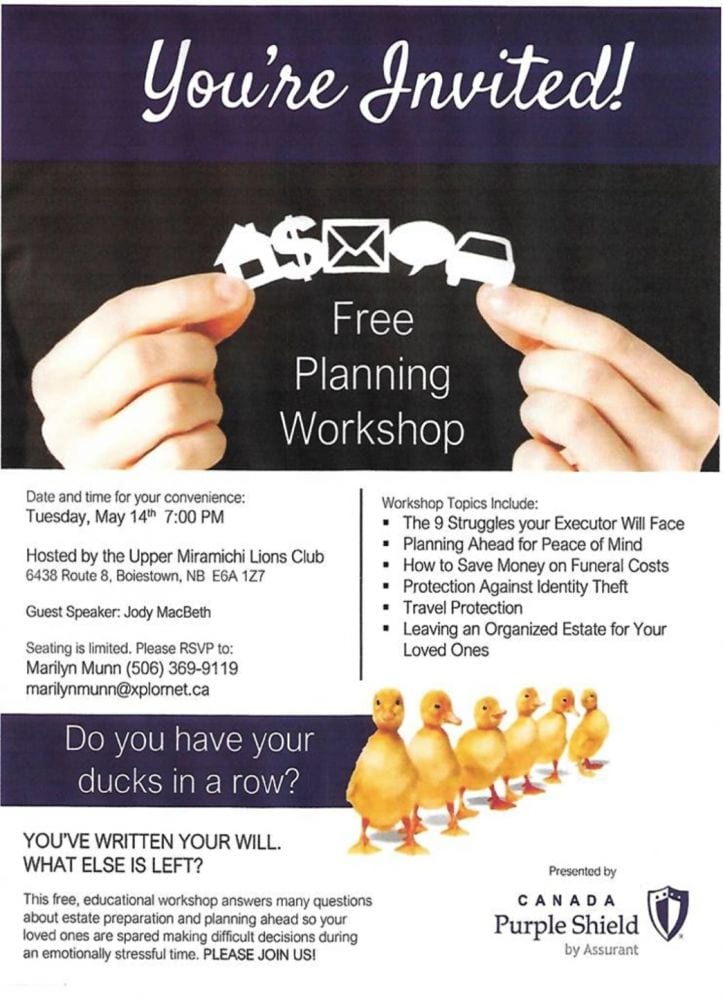 Workshop Topics Will Include The Following:
The 9 Struggles Your Executor Will Face
Planning Ahead For Peace Of Mind
How To Save Money On Funeral Costs
Protection Against Identity Theft
Travel Protection
Leaving An Organized Estate For Your Loved Ones
Be sure to join the Upper Miramichi Lions Club Group on Facebook at:
https://www.facebook.com/groups/135871049808220/