Miramichi Hope Café serves free meals to the community every Friday from 12 pm noon to 1 pm, year-round, at Saint Andrew's Anglican Church Hall in Miramichi.
The Venerable Reverend Richard Steeves (now retired) and his wife, Captain Deacon Reverend Rose Steeves started the Miramichi Hope Café in 2011 and worked hard to get it going.
Harry and Jennie (Dunnett) Miller of the Hilltop Road joined this team in March of 2012.
They served only four people the first few weeks with The Venerable Steeves and his wife, along with Captain Deacon Reverend Steeves and Thomas O'Donnell.
The meals started off with homemade soup, rolls and cookies. Then, it started to grow. They now serve between 40 to 55 meals each week, and also serve meals on special occasions.
In 2017, Ms. Anne Hebert became the coordinator. Now, in it's seventh year, the Hope Café menu has expanded to include full-course meals and they serve a variety of nutritious meals.
Four teams of volunteers take turns each week and new volunteers are always welcome.
The Hope Café has been blessed to have City of Miramichi Mayor Adam Lordon, Miramichi Police, our MLA for Miramichi Bay – Nèguac, Lisa McKenzie Harris, and Miramichi Timberwolves, all come out at different times to help serve meals.
Donations to the Miramichi Hope Café are most welcome. A receipt from the Anglican Church will be issued. Direct your donations to Ms. Anne Hebert, the coordinator.
Saint Andrew's Anglican Church Hall is located at 214 Pleasant Street. Parking is available at the rear of the hall.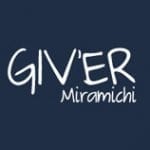 Giv'er Miramichi is about "What's up, what's new, what's happening". We are focused on building people up, supporting one another and celebrating our successes.