Cradle to Career Miramichi Preventing Summer Learning Loss in Students
The Newcastle Rotary Club is donating funds to help children improve literacy this summer.
Last year Miramichi was the first city in New Brunswick to launch a city-wide campaign to reduce summer learning loss. This year Cradle to Career Miramichi is further enhancing their efforts.
Cradle to Career Miramichi is working with Frontier College to offer free summer camps for children who are struggling with reading. The funds from the Newcastle Rotary Club will allow children to attend free of charge.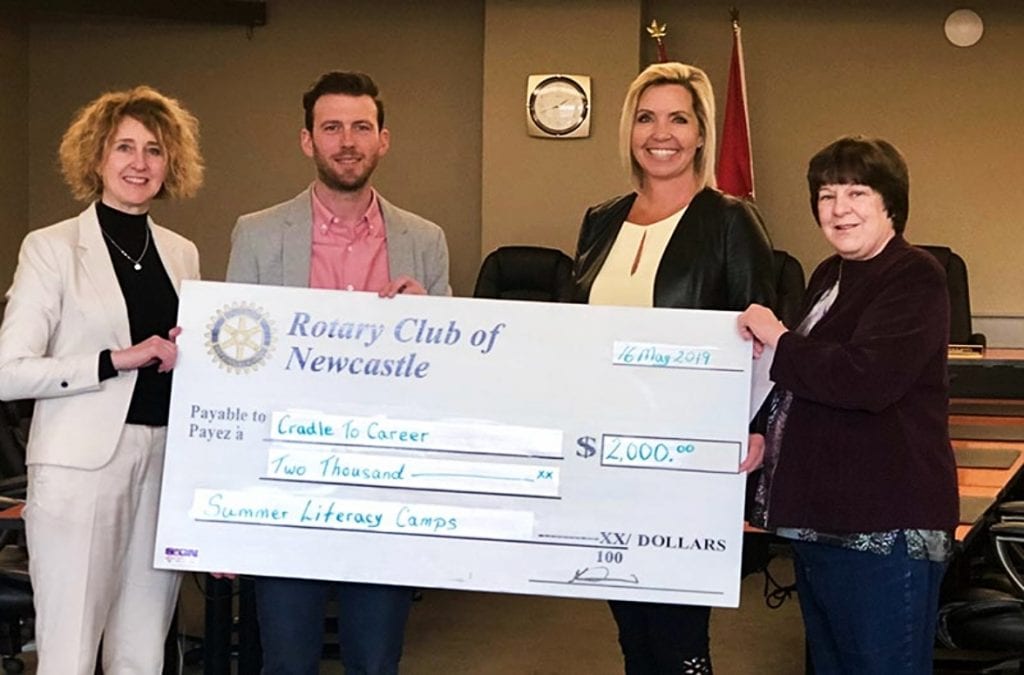 How Summer Learning Loss Affects Kids:
• Kids generally lose two months of reading achievement over the summer months.
• Most kids lose 2-6 months in mathematical computation skills.
• Teachers spend 5-6 weeks reteaching material from previous grades.
• By the end of grade 5, at risk kids can fall behind 2-3 grades.
What is Cradle to Career Miramichi?
Cradle to Career Miramichi is an initiative designed to help prepare every child, who lives within the greater Miramichi area, for success from birth to career.
Using a collective impact model from Stanford University, we bring together resources from throughout the community to help students improve educational results as they reach key benchmarks in their development, placing and keeping them on a path to success.
In addition to the Frontier College Camps, Cradle to Career Miramichi will be working with other partners to prevent summer learning loss.
City of Miramichi: The city will be adding 20 minutes of reading into their existing camps this year.
Miramichi Bible Camp: This year the Miramichi Bible Camp leaders read to the children each day and gave the kids opportunity for private reading.
Brilliant Labs: Brilliant Labs will be offering Science, Technology, Engineering and Math activities at various camps throughout Miramichi. Brilliant Labs is a not-forprofit, hands-on technology and experiential learning platform based in Atlantic Canada. They support the integration of creativity, innovation, coding, and an entrepreneurial spirit within classrooms and educational curricula.
NB Public Libraries: The libraries in Chatham, Newcastle and Carrefour Beausoleil will be dropping off books weekly to summer camps and daycares and helping to coordinate the Summer Reading Club log book.
Carrefour Beausoleil Camps: This camp will be offering fun literacy games and activities. The Carrefour Beausoleil Library worked closely with the summer camp by offering reading materials and various programs.
FREE Summer Literacy Day Camps
Frontier College will be providing FREE Summer Literacy Day Camps for children in grades 1 to 3 in Miramichi, in partnership with Cradle to Career Miramichi, the Anglophone North School District, Miramichi Elementary Schools, Miramichi Public Libraries, and other community organizations.
The camps will take place at King Street Elementary and Max Aitken Academy. The days will be filled with fun activities that are focused on reading and writing, along with some math, science, arts and crafts and physical activity.
Each child will receive three to five personal one-to-one oral guided reading sessions per week with camp leaders and volunteer tutors.
Become a Volunteer Tutor
Dates: From Tuesday, July 2 to Friday, August 23, 2019
Required commitment: A minimum of two hours per week for four to eight weeks.
Help children improve their reading skills, confidence and success in school. You should have good English skills and be enthusiastic, patient, flexible, and creative.
To volunteer, or if you have any questions, contact Jennifer Bell or Alanna Hallihan:"> , Tel:(506) 625-5414, ,">, Tel: (506) 626-2396
This article originally appeared in the 2019 Summer Issue of Giv'er Miramichi magazine.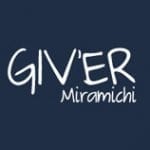 Giv'er Miramichi is about "What's up, what's new, what's happening". We are focused on building people up, supporting one another and celebrating our successes.