Graveyard Tour at Wilson's Point – July 13
Seek out the troubled spirits of times long past… if you dare… on Saturday July 13 as part of the Graveyard Tour at Wilson's Point starting at 9:30pm.
Wilson's Point has always been a haunted place. Plagued by misfortune, disaster, and death, the site of Miramichi's first English-speaking settlement and Acadian refugee camp will soon creak and groan to life. By moonlight meet the restless spirit of William Davidson, the eerie Ursilla Vye, the bitter Boishebert, and all sorts of other frightening characters as you take your walk through the Point's trails.
The stories surround the early settlers at the Point, as well as some of the modern tales of the supernatural which happen to be associated with one of Miramichi's oldest cemeteries; from the Point's famous lady in white – searching for her lost betrothed for nearly 200 years – to the tragic end of John Wilson, who lent his name to the Point itself.
Put your bravery to the test as you follow the tour guide through the old iron gates into one of the oldest graveyards on the Miramichi where tragic tales are as common as the old gravestones. A lady in white stalks the woods for her lost love, and a mysterious man tells of the dangers of the water between Beaubears Island and the Point. Vengeful lumberjacks and shadowy spectres haunt the woods, each with their own tale.
Come hear some of the oldest myths and legends from the early days of our region, and see the Point in a new, under the spooky cover of darkness.
But there is nothing to worry about. They're just stories … right?
The Tour Starts Here!
Courageous guests will begin their tour at Wilson's Point Historic Site, 8 Enclosure Rd, Derby Junction, Saturday July 13. Meet us at the replica of the St. James Presbyterian church at 9:30 pm and the adventure should last about an hour. Admission is $10/person and the event is kid friendly! Bring a flashlight if you like and you might want to wear mosquito repellent!
But be warned, for you may not return the same.
For more information on this, and other upcoming events and programs, call 506-622-8526 or visit www.beaubearsisland.ca.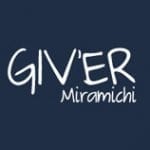 Giv'er Miramichi is about "What's up, what's new, what's happening". We are focused on building people up, supporting one another and celebrating our successes.