Robert Ross Launches New CD
Singer-songwriter Robert Ross is returning home to Miramichi to release his new CD.
Born in Barryville, Miramichi, Robert is now based in Cairns, Australia.
He shares his love of music with audiences in pubs, clubs, resorts, private functions and festivals throughout Australia and Canada.
He has been busy writing and recording over the past year and is excited to be returning to the Miramichi to share his new CD of 10 original songs: It's Never Too Late.
Robert's style is influenced by country greats Johnny Cash, Merle Haggard and other country artists such as Randy Travis and Sawyer Brown, as well as good ole Rock n' Roll.
His original songs are rich with life experiences which connects him directly to his fans.
The Miramichi is a breeding ground for country and folk songs written from the heart and about life.
Robert grew up listening to his grandmother singing the classics and hearing what we now call classic rock on the radio.
The mix of the two became the basis of his music today.
Robert says "My music comes from life. The good, the bad and the hilarious! This is where we all have something in common".
On June 22 he is off to Nashville for two weeks and then he is "on the Miramichi" from July 6-22.
During his stay he has some local gigs lined up and he is open to booking more.
Robert has another special reason for coming to Miramichi.
On July 20 he will be marrying his "girl next door" that he grew up with and has been reunited with after 36 years.
After his visit in Miramichi, he will be flying to Calgary, Alberta to another CD Release Party at the Horton Legion.
Robert is retired from the Canadian Army and chose the Legion to support the veterans.
Miramichi Gigs
July 12: Pond`s Chalet Resort in Ludlow, 10 pm to 1 am
July 13: Barryville Golden Age Club Dance, 8- 11 pm
July 14: Ritchie Wharf, 2-4 pm
To contact Robert to play while he is in Miramichi or to find out more about him and his music, visit his website www.robertrossmusic.com and social media.
Facebook: robertrossmusic
Instagram: @robertrossmusic
This article originally appeared in the 2019 Summer Issue of Giv'er Miramichi magazine.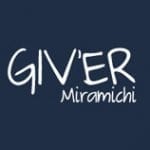 Giv'er Miramichi is about "What's up, what's new, what's happening". We are focused on building people up, supporting one another and celebrating our successes.